Currently browsing the "
Francis Ford Coppola

" tag.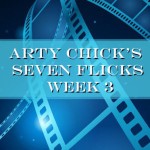 This week's list is heavy with comedies, but what a diverse set they are! From modern indie fare to classic screwball with a couple that are held up as the best of the genre ever. I also include an absurdist anti-war film. Two of the films this week are from the same director, though one is a drama and one a comedy. Two of the films are about Hollywood. Something for every taste.