This week's list is heavy with comedies, but what a diverse set they are! From modern indie fare to classic screwball with a couple that are held up as the best of the genre ever. I also include an absurdist anti-war film. Two of the films this week are from the same director, though one is a drama and one a comedy. Two of the films are about Hollywood. Something for every taste.
15) Down By Law (1986) from director Jim Jarmusch is an indie comedy gem. Set in a gritty black-and-white New Orleans, DJ Zack (Tom Waits) and pimp Jack (John Lurie) meet in a jail cell, both of them having been framed. They're joined by Bob (Roberto Benigni) an Italian tourist who doesn't speak much English who's brought in for accidental manslaughter which he admits to.
Zack and Jack bicker and refuse to talk to each other, but Bob is full of conversation and throws in a slew of silly English phrases he's learned from a book. Plus he has a plan to escape. And soon they're on the run through a swamp where Bob finds true love. This film has some of the best dialogue ever and Roberto Benigni (in the role that first brought him to American audiences) is hilarious! Jarmusch has a style all his own, and this film was the one that made me love it.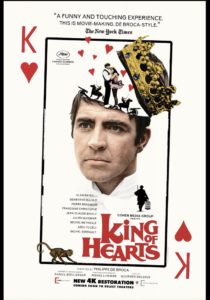 16) King of Hearts (1966) stars Alan Bates as a Scottish soldier during World War I who is sent to a French town to disarm a bomb left behind by the Germans. The town has been deserted by everyone except the patients at the insane asylum. They've taken over the place. And when they meet Charles (Bates) they declare him their long lost King of Hearts.
Since they've the run of the town, the patients take on the roles of aristocrats, the prince of the church, a fancy madam, and whatever they dream. They put on a full-regalia coronation and Charles, while still trying to fulfill his soldierly duties, slowly becomes one of them. There's a wonderful play between who is insane (the warmongers) and who is just normal mad. It's funny and touching and beautiful.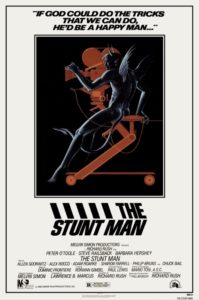 17) The Stunt Man (1980) is one of those movies about movies. In it an escaped convict (Steve Railsback) is hiding out on a movie set just when they need a new stunt man, after the last one died in a freak accident, so he takes the job. The director (Peter O'Toole) is a megalomaniac who expects his stunt man to be superhuman and will stop at nothing to get his film made, pushing him into death-defying situations.
The dialogue is witty. The score fab. Peter O'Toole is at his fabulous best. Barbara Hershey has a turn as the stunt man's love interest, too. It earned three Academy Award nominations.
18) Some Like it Hot (1959) from writer/director Billy Wilder is considered one of the best comedies ever made, and I totally agree. I can't imagine people having never seen it, but .. The gist is musicians Joe (Tony Curtis) and Jerry (Jack Lemmon) are in the wrong place at the wrong time (1929 in Chicago), and happen to witness the St. Valentine's Day Massacre. So they're on suddenly on the run from the mob and disguise themselves as women to join an all-girl band traveling to Florida, becoming Josephine and Daphne. Sugar (Marilyn Monroe) becomes their new best friend, though they're both lusting after her, and when they get to Florida, Joe, minus the Josephine disguise, begins to woo her, while pretending to be a millionaire who has problems with love.
Meanwhile Daphne attracts the attention of a real millionaire, Osgood Fielding III (Joe E. Brown), and plays along. But then the mob comes to their hotel and the jig is up. Marilyn Monroe is absolutely brilliant in her role as Sugar, and Curtis and Lemmon have so much fun with their dual roles. It's one of those movies you can watch again and again and still laugh out loud. And it has the best last line in filmdom.
19) Sunset Boulevard (1956) is also a Billy Wilder film, but unlike Some Like it Hot, it's no comedy. It stars William Holden as Joe Gillis, a struggling Hollywood screenwriter who has car trouble and stops at a house he thinks is abandoned. There he meets silent screen star Norma Desmond (Gloria Swanson) who offers him a job. Believing that her comeback is right around the corner, she hires him to help rewrite a screenplay with her. He moves in with her and reluctantly becomes her gigolo.
Norma is delusional, and her butler Max (played by director Erich von Stroheim) feeds her fantasy that she is still a great star with hordes of fans. He's her ex-husband and former director and worships her. But when Joe decides to leave Norma, and bursts the bubble of all Max's carefully crafted make-believe, she kills him. This isn't a spoiler. The first shot of the film is Joe's body floating in the swimming pool face down. The film has a ton of silent era Hollywood names in cameos – Hedda Hopper, Buster Keaton, even Cecil B. DeMille. It was nominated for ten Academy Awards and won three. A CLASSIC!
20 Bringing Up Baby (1938) is from another classic director, Howard Hawks. It's in the screwball comedy genre. Cary Grant plays David Huxley, a mild-mannered paleontologist chasing a million dollar donation for his museum when he runs into wacky heiress Susan Vance (Katherine Hepburn) on the golf course. She has a pet leopard named Baby and believing David is a zoologist that can help her with her new pet she invites him to her house. But then wanting his to stay longer, she spills something on him and then hides his clothes. And when a dinosaur bone (an intercostal clavicle) he's been coveting to complete a skeleton at his museum is delivered, Susan's Aunt Elizabeth's dog absconds with it and buries is somewhere. Aunt Elizabeth is the one with the money he's been trying to finagle for the museum.
There's a lot more to the story, and it's all hilarious and fast paced. It's definitely one of the best rom-coms ever made. I recently read that the movie went over budget and over schedule, in part ".. due to uncontrollable laughing fits between Hepburn and Grant."
Other Hawks movies you should put on your list: Gentlemen Prefer Blondes, His Girl Friday, Sergeant York, The Big Sleep.
21 The Conversation (1974) is the movie Francis Ford Coppola made between the first two Godfather films. It stars Gene Hackman as Harry Caul, a solitary surveillance pro who's hired to record a conversation between a young couple (Frederick Forrest and Cindy Williams) who are meeting in San Francisco's loud and busy Union Square. His client is only known to him by the pseudonym "the director." But when Harry hears the conversation he starts to fear for the couple's lives. One phrase stands out. "He'd kill us if he got the chance."
Harry is still feeling guilty for the deaths of three people during another wire tap job, so he holds back the tape from "the director." But then the tape is stolen and he tracks down the client and it turns out the woman is his wife and she's having an affair. Simple, no? But of course there's more to it. It's a fabulous thriller and Hackman is amazing. The film was nominated for three Academy Awards in 1974 but lost Best Picture to Coppola's other movie that year, The Godfather Part II.
ENJOY AND CHECK BACK NEXT WEEK FOR PART 4!
All of these are streaming and some of the older ones you can find at your library.