Currently browsing the "
Jim Jarmusch

" tag.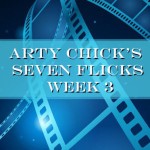 This week's list is heavy with comedies, but what a diverse set they are! From modern indie fare to classic screwball with a couple that are held up as the best of the genre ever. I also include an absurdist anti-war film. Two of the films this week are from the same director, though one is a drama and one a comedy. Two of the films are about Hollywood. Something for every taste.
Anyone who's been a fan of Jim Jarmusch's movies over the years – Stranger Than Paradise, Down By Law, Mystery Train – knows he has an off-center view of the world and it's events. So going into his take on a zombie flick, you don't expect the usual Night of the Living Dead scare-fest. And you don't get one. What you get is a deadpan Sheriff (Bill Murray) and his pessimistic Deputy (Adam Driver, Star Wars: The Last Jedi) dealing with their small town being overrun by hordes of their friends and family from the nearby graveyard, all watched from afar by the town's wise Hermit Bob (Tom Waites). It's a fairly straight zombie apocalypse story, but it's peopled by a slew of wacky Jarmusch characters and told with a wink and a nod. All in all it's sometimes fun, but definitely not a film for lovers of the horror genre it's making fun of the whole time.