Currently browsing the "
Full Frame Documentary Festival

" tag.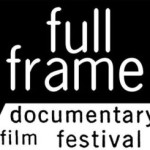 Film festivals are a lot of fun, but kind of exhausting, too. I headed to Durham, NC last weekend for the Full Frame Festival, one of the premier documentary festivals in the country. The program included world premieres, some big time invited docs, and some thematic selections. Now in its 18th year, I kind of wish I'd attend this festival years ago, before it got so big and popular and crowded. I was only able to fit in eleven films in four days, and a few that I really was looking forward to seeing were sold out before I even had a chance to select tickets, but I was happy I got to see most of what I did. And here are my minireviews!