Film festivals are a lot of fun, but kind of exhausting, too. I headed to Durham, NC last weekend for the Full Frame Festival, one of the premier documentary festivals in the country. The program included world premieres, some big time invited docs, and some thematic selections. Now in its 18th year, I kind of wish I'd attend this festival years ago, before it got so big and popular and crowded. I was only able to fit in eleven films in four days, and a few that I really was looking forward to seeing were sold out before I even had a chance to select tickets, but I was happy I got to see most of what I did. And here are my minireviews!



DAY ONE

The first film I saw was Uyghurs, Prisoners of the Absurd. For those who have never heard of them, Uyghurs (pronounced Wee-gur) are a Muslim group who live in the far west of China and are fighting for religious freedom. The government has labeled them terrorists. In this Kafka-esque film, a group of Uyghur men who were only looking for a place to practice their religion headed to Afghanistan, and in the aftermath of 9/11 got caught up in the US war, were bombed in their remote safe haven, then sold as terrorists to our soldiers, ultimately landing them in Guantanamo. And even after our government ascertained that they were not in fact enemy combatants, they remained there for years, in part from the Chinese government's pressure, and because a country that would take them was incredibly hard to find. The film concentrates on three of these innocent men and their truly absurd and horrifying tale.
My second film of the day was Kurt Cobain: Montage of Heck, the sad story of Nirvana's lead singer/songwriter. I highly recommend it. You can read my review of it here.
DAY TWO
Manufactured Landscapes came out in 2006.
It is an interesting examination of photographer Edward Burtynsky's work on the subject of the ways humans have created artificial landscapes through commerce and consumption. Most of the film takes place in China — in immense factories, in towns that recycle the world's e-waste, in ancient villages being torn down brick by brick for the Three Gorges Dam. Burtynsky uses a large format camera to make beautiful photos of these horrific "manufactured landscapes," and his exhibitions allow the viewer the space to draw their own connections to globalization and human complicity in our destruction of the environment. It is thought provoking and I'd love to see the actual photos in person. (It is available on Netflix)
Here Come the Videofreex is a fascinating film about a group of young men and women who were the first citizen journalists. Portable video cameras became available in 1969, and a motley crew of the curious found each other and took to the streets to document what was happening. There was nothing on television at the time that looked at the dynamic culture of young people, so they shot it. Then a young "before his time" CBS executive heard about them and hired them to document "counterculture," to bring their view of America to a wide audience, setting them up with production space and a van.
They dubbed themselves "The Videofreex" and traveled around the country shooting in places that the network news never could or would, interviewing people from the man on the street to radical Abbie Hoffman. But just when their pilot was ready for primetime, the big network executives saw what they'd been up to and deemed it too radical to air. So the Videofreex were fired, though they got to keep all the equipment and sneaked all their footage out of CBS in a guitar case. Energized by their experience they went on to shoot and interview for years – anti-war protests, the women's rights movement, the Black Panthers. The only problem was they had no outlet. There was no YouTube, no community television stations. They were archiving the times, but the effect of their work was miniscule, just some screenings for friends and associates. So after several years in New York City, they moved to an upstate farmhouse and created the first pirate television station, documenting the local people and their stories, even creating small town celebrities and children's programs, and becoming an integral part of their little rural community. What they were doing was really groundbreaking and the film is a lot of fun, (though if you're like me and get woozy with motion, take some Dramamine before viewing; those early cameras did not have image stabilization, nor were those early shooters adept at keeping the camera steady.) I really liked this film!
DAY THREE
Sad Songs of Happiness was the sweetest of the films I saw. It follows two 12-year-old and one slightly older Palestinian girls from East Jerusalem as they prepare for and compete in a two international youth opera competitions.
Rita and Hiba are best friends and both attend the German School in Jerusalem where they are studying opera under the tutelage of Karl Kronthaler, a demanding but kind instructor/coach. They both have voices that sound like much older women, but they're also typical teenage girls with ever-present cell phones and preoccupations with their hair and clothes. Tamar is a bit older, and has a more jazzy tone. They all see opera as an escape from their current lives in occupied territories. Tamar dreams of it taking her to America. So singing on an international stage is a dream come true for all of them. The film takes them first to Turkey and then to Germany where they sing their adorable hearts out. Rita and Hiba are particularly cute together, holding hands and harmonizing at times. The opera competitions play out against the backdrop of life as Palestinians and limitations of free movement. There are a few heavy-handed moments where you can almost year the director saying, "Okay, let's remind the audience that these kids are in Palestine," but mostly you just want these sweet kids to do well because they're sweet kids. It is ultimately a heartwarming tale of three very talented music-loving girls.
Incorruptible is the story of the 2012 presidential elections in Senegal. It is amazing for the fact that the director had extraordinary access to all the candidates, including the President.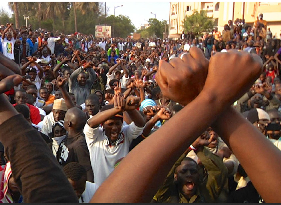 The camera at times seems to be able to go just about anywhere and hear anything. It is in the streets of Dakar when President Wade sends the troops out to quell riots over his decision to run for a third term despite a constitutional 2-term limit. It is also inside the halls of the opposition as they make plans to challenge him both physically and politically. It is an incredible inside look at Senegalese politics, in a country that's never had a civil war and is a paragon of democracy in Africa. You meet a number of challengers as they make their cases to the people to vote and as Wade becomes more and more repressive. The youth movement and their leaders are particularly powerful and fearless in the face of government violence. The interviews from all sides demonstrate an intense love of country, very astute political understanding, as well as extreme concern about failing as a democracy. The frontrunner (and now president) hopes that if he wins, he will not fall into the same ego trap as the ultimately corrupt Wade. It is a riveting political film, so well shot and edited, and an amazing story of democracy. I highly recommend it for anyone who sees Africa as a monolithic culture and for political junkies.
The Black Panthers: Vanguard of the Revolution is the heartbreaking history of the rise and fall of The Black Panther Party for Self-Defense.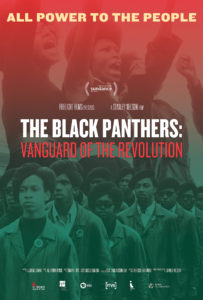 So much of it feels decidedly déjà vu. From its beginnings as a reaction to the police targeting black men for walking while black, and the larger system keeping their communities poor and undereducated, and as a part of the larger youth movement that brought revolutionary ideas to the streets, the Party became an amazingly powerful national organization for black empowerment. The film weaves together the history through archival footage and interviews with surviving Panthers, their supporters and some of their detractors. It shows just how scared the establishment was of this uprising and how far J. Edgar Hoover and his FBI CoIntelPro program went to infiltrate and undermine them, even when in those early days they were using their organizing efforts to feed and educate their communities. The film doesn't gloss over their radical and at times violent agenda, but it shows that in the context of the times, their talk of fighting for their lives wasn't just rhetoric. It also points to problems many organizations face, the egos of their leaders. Perhaps the most charismatic and best strategist they had was Fred Hampton, who was assassinated in his bed by the police. (Coincidentally, there is a great interview with him shortly before his death in Videofreex, see above.) The Black Panthers: Vanguard of the Revolution chronicles the Panther's story from its founding in Oakland in the 60s through its leadership infighting and eventual disintegration in the early 80s. More than anything I came away from it wishing that another organization with the energy and reach could bring together the black community today to finish the fight. It is a film well worth seeing and I truly hope when it has a wider showing, that a lot of people see it and are inspired to act, again.
The Term is about several of Vladimir Putin's 2012 presidential rivals and their thwarted quests to challenge him. The cameras are in the streets as the Russian Army shuts down protests and hauls off dissenters.
Alexei Navalny is the most interesting of the politicians. Young, handsome, smart and apparently a huge thorn in Putin's side, he draws enormous crowds and is thrown in jail on trumped up charges, has his house raided, and is generally undeterred. There is also a far right candidate and a Moscow power couple and brief appearances by Pussy Riot, Madonna, and Yoko Ono. The film is probably best seen as a small glimpse behind the scenes of the messy politics of Russia. Putin is represented only through a series of silly YouTube videos as a comic counterpoint to the demonstrations and police actions. The film suffers from being more of a patchwork than a statement.
DAY FOUR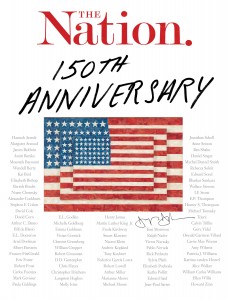 Hot Type: 150 Years of The Nation is the story of The Nation magazine directed by docu-hero Barbara Kopple (Harlan County U.S.A., Shut Up & Sing.) You might call this the best ad for a magazine ever shot. It was commissioned by The Nation to celebrate its 150th anniversary and it is pretty uncritical of its subject, though the fact that it is the oldest continuously published magazine in America, and that it is still putting out a print version is quite an accomplishment worth acknowledging. I was surprised to find that the magazine began its life as a conservative magazine, only becoming the progressive voice it is now after World War One. The film is essentially a love letter to good old-fashioned non-corporate journalism as practiced by the intrepid writers and editors at the magazine. Big personalities, editor Katrina vanden Heuvel and editor emeritus Victor Navasky, take center stage, walking us through the history of the writers who wrote – some of the greatest writers of our time– and the stories they told – many that the mainstream never touched. What is fun is how they read us a story and only later reveal that it was from a 50-year-old issue, underlining the fact that history truly does repeat itself and many of our current problems have been with us for way too long. A lot of the movie deals with the interns, the only way to get a job there it seems, and the magazine's desire to attract the younger demographic. It is one of these interns who points out the lack of diversity in the magazine's staff, something they'll be working on. Hot Type: 150 Years of The Nation may also be a potent fundraising tool for the magazine, which depends on donations to stay afloat. I do hope they have another 150 years!
Point and Shoot is the strange tale of a pretty sheltered young man from Baltimore, Matt VanDyke, who yearned for adventure and decided it was time to "discover his manhood," so he bought a motorcycle and a video camera and took off for what turned out to be a 35,000 mile trip through Northern Africa and the Middle East.
He had a degree in international studies, so it was not entirely frivolous, but as he explains in the film, the taste of adrenaline is addictive. So jumping his bike and taking interesting video were not enough, and he began to crave more daring adventures. His friendship with a Libyan free spirit named Nuri brought him into the biggest adventure he could find, when he decided join the revolutionaries in their fight to oust Muammar Gaddafi. It is probably the most selfie of war movies ever made as Matt continues to shoot video of himself and his comrades throughout the fighting, making sure to stage incidents for a good camera angle. He is caught at one point and thrown in jail for several months, but once he is freed he can't help but jump back into the fray. And it is definitely a macho vision of the world, lots of guns and camaraderie, with seemingly no discussion of the political reasoning. All the footage is woven together through interviews back home in the comfort of his living room and with the benefit of hindsight with director Marshall Curry, and the audience is left to decide for themselves whether he ultimately found his manhood or just indulged his sense of adventure. It is a disturbing film mainly for Matt's total lack of insight.
Listen to Me Marlon is all about Marlon Brando, who apparently, like Kurt Cobain loved to make tapes of himself and stash them away.
So the film is really an autobiography as he narrates the story of his life. And like Kurt, Marlon has an abusive family and found himself through his art. The film weaves the Brando tapes with photos and film clips and television appearances, and ends up with a beautiful but sad portrait of a great actor. Of course, he must have assumed someone would listen some day to his musings. He talks about everything from his way of acting, to the state of Hollywood, to race relations, to the tragedies in personal life. It did remind me of what I loved about Kurt Cobain: Montage of Heck, the way a person can tell their own story better than any other person, especially in the hands of a sensitive director, as in both these cases. If you are a fan of Marlon, I highly recommend this one!
Afterthoughts
As usual, I chose a lot of political films and I noticed that they seemed to be speaking with one another. The Senegalese opposition took lessons from the Black Panthers. The Videofreex shot video of one of the Panthers before he was killed. Nirvana was being played in the background while Alexei Navalny rallied his supporters in The Term. I'd heard all about the CoIntelPro program in a documentary I saw last year at AFIDOCS. And Marlon showed solidarity with the Panthers, too. Seeing a bunch of films over a few days like this is a lot of fun and gets your brain going in a lot of directions, mostly thinking that there are so many stories that need to be told and that modern technologies make it so much easier, so why am I not making my own documentary? And where is the next festival going to take me?