Currently browsing the "
Kurt Cobain

" tag.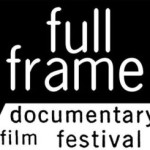 Film festivals are a lot of fun, but kind of exhausting, too. I headed to Durham, NC last weekend for the Full Frame Festival, one of the premier documentary festivals in the country. The program included world premieres, some big time invited docs, and some thematic selections. Now in its 18th year, I kind of wish I'd attend this festival years ago, before it got so big and popular and crowded. I was only able to fit in eleven films in four days, and a few that I really was looking forward to seeing were sold out before I even had a chance to select tickets, but I was happy I got to see most of what I did. And here are my minireviews!
Back in the 90s I liked Nirvana's music, though I wasn't what I would call a big fan. But when lead singer/songwriter Kurt Cobain killed himself, I was shocked and saddened. The story around his personal life and suicide was messy and there was a lot of finger pointing and demonizing of his wife, the infamous Courtney Love. What Kurt Cobain: Montage of Heck does really well is paint a picture of Cobain that runs counter to the tabloids and gives you a real glimpse of the tragic artist that he was. So much of it is told through his diaries and his own private tapes that no one, not even Courtney Love, had bothered to look at. It's a film that will make even those of us who just liked the music respect his artistry on a whole other level.