Currently browsing the "
Geraldine Viswanathan

" tag.
After a string of romantic dramedies best described as watchable but weak, along comes The Broken Hearts Gallery, a funny, smart and satisfying meet-cute that is – rather sadly – opening only in actual theaters. The movie puts a fresh spin on a tried and true formula with a pair of likeable leads in Lucy (Geraldine Viswanathan, Blockers) and Nick (Dacre Montgomery, TV's Stranger Things). Plus, a dash of Bernadette Peters!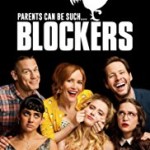 The premise certainly sounds horrifying and offensive: When three parents discover their daughters' pact to lose their virginity at prom, they launch a covert one-night operation to stop the teens from sealing the deal. Sounds like a laugh riot, right? Well, as much as I hate to admit it, Blockers is quite funny. It's also a hard 'R', so don't be cueing this one up for Family Movie Night.