Currently browsing the "
Giancarlo Esposito

" tag.
Most of this week's films come from the 80s. There's a jewel heist, a race riot, a dystopian bounty hunter, an academia story, three murderers, a couple of divorces, and a lot of intrigue.
They received 10 Oscar nominations between them, and a lot of other accolades.
This week's films are: A Fish Called Wanda, , Do the Right Thing, Blade Runner, Educating Rita, Dance With a Stranger, Brother's Keeper, His Girl Friday.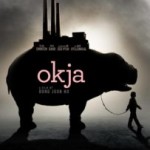 In his audacious new film, Bong Joon Ho (Mother, Snowpiercer) pits a little Korean girl and her beloved super-pig against a corporate food mogul (Tilda Swinton). Okja is the name of a giant pig hybrid that little Mija (Seo-hyeon Ahn) has brought up for ten years high in the mountains of South Korea. That Okja is a GMO experiment makes no difference to her. He's just her enormously fun pet. And in the opening scenes of the film, they do have big fun. But when the owner of the pig sends an envoy to give Mija's grandpa a prize for best pig and decides to take Okja back to the US, Mija isn't having it. She's out to save her best friend. It's wacky and the second half doesn't entirely work, but at its heart it's a sweet story of a girl and her super-pig.