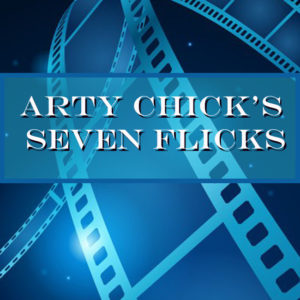 Most of this week's films come from the 80s. There's a jewel heist, a race riot, a dystopian bounty hunter, an academia story, three murderers, a couple of divorces, and a lot of intrigue.
They received 10 Oscar nominations between them, and a lot of other accolades.
This week's films are:  A Fish Called Wanda, , Do the Right Thing, Blade Runner, Educating Rita, Dance With a Stranger, Brother's Keeper, His Girl Friday.
71. A Fish Called Wanda 1988
This is a laugh out loud jewel heist comedy. It stars Jamie Lee Curtis as the seductive Wanda. She and her mobster boyfriend Georges are planning to steal a huge cache of diamonds. She brings in her brother Otto (Kevin Kline) a dimwitted weapons expert (actually her new lover not her brother) to help out. They're planning to double cross the boyfriend. But she's only using Otto and really plans to take all the diamonds for herself.
The heist is successful and Wanda gives up Georges to the police. But when she and Otto return for the diamonds where they were stashed, they're missing. Georges's right hand man Ken Pile (Sir Michael Palin), a stuttering animal lover, has hidden them. To tell the whole plot would ruin your first viewing. Suffice to say, there are more seductions, crosses and double crosses, chases, a gold fish gets eaten, and hilarity is around every corner. John Cleese is also involved.
The film received 3 Oscar nominations: Kevin Kine won Best Supporting Actor. The screenplay and director Charles Crichton were also nominated.
72. Do the Right Thing 1989
I remember sitting in the theater in New York when this came out and being amazed and breathless when it was over. It's definitely one of Spike Lee's best. The film takes place in Bedford-Stuyvesant section of Brooklyn on the hottest day of the summer. The center of the film is Sal's Pizzeria. Lee paints a vivid picture of the characters in the neighborhood, all crossing paths, all displaying varying degrees of racism. But it's what happens at Sal's that kicks the film into action. Sal (Danny Aiello) has been there for 25 years as the neighborhood has gradually turned more brown. His racist son Pino (John Turturro) wants to move the business elsewhere. His younger brother Vito gets on with everyone including the delivery guy Mookie (Spike Lee). This day Mookie's buddy Bugging' Out (Giancarlo Esposito) decides to call out Sal for his "Wall of Fame," which is covered with photos of Italian-Americans. And things escalate from there with Bugging' Out calling for the neighbors to boycott the place.
That night Bugging' Out returns to the pizzeria with Radio Raheem, a local guy who carries a boom box everywhere he goes blasting Public Enemy's "Fight the Power." They're there to demand representation on the "Wall of Fame." Bugging' Out insults Sal and his sons and Sal calls him the N-word and destroys Radio Raheem's boombox, and it turns into a brawl. When the police arrive they put Radio Raheem in a chokehold and he dies. (Some things don't change.) And the place descends into chaos. This film was probably one of the first to deal with race so head on. It's a powerful, well-acted, well-directed film everyone should see.
Lee picked up his first Oscar nomination for the screenplay. Danny Aiello was nominated, too.
73. Blade Runner 1982
This one is still my favorite dystopian sci-fi movie ever. Adapted from Philip K Dick's "Do Androids Dream Of Electric Sheep," it's a Ridley Scott film noir take on the question of machine sentience. Harrison Ford is a bounty hunter aka blade runner paid to find and kill "replicants," bioengineered fake humans. There are four replicants that have escaped from a slave labor off-world station. They're a particular brand from the early days of replicants – Leon, Roy Batty, Pris, and Zhora.  Rutger Hauer plays Roy Batty and he's gorgeous!  Daryl Hannah is his love Pris. They're looking for their maker, hoping to extend their planned obsolescence lives.
Meanwhile Decker is looking for them and meets their maker who lets him administer the Voight-Kampff test with his assistant Rachael (Sean Young). The test is used to distinguish humans from replicants based on their emotional response. The test shows she is not human. Later when he gets home Rachael is there waiting for him, trying to convince him the test was wrong, showing him photos of her childhood. But he knows all the memories were manufactured and placed in her head. Nevertheless, he falls for her, and helps her get away from the blade runner on her tail.
But then he must find Roy Batty. After dispatching all the others he has his final battle with Roy on a rooftop in the rain. And Roy's death is one of the most beautifully sad moments on film.  The whole film is gorgeous. And the idea that manufactured people can think and feel is a scary prospect. This is on multiple "must see" lists for a lot of reasons. Make sure you watch the "final cut" as there were quite a few version, some of them missing key moments.
The film received two Oscar nominations for Art Direction and Visual Effects.
74. Educating Rita 1983
Rita (Julie Walters) is a 27-year-old working-class hairdresser who's looking for more in her life than having kids and settling for the life her husband envisions. So she enrolls in a literature class at an open university. She's assigned a professor to tutor her. Frank Bryant (Sir Michael Caine) is an upper-crust alcoholic who's given up on life, just getting by doing the least he can as a teacher. But when he meets Rita, he's reminded that he was once like her, with hopes and dreams. And he is determined to be the teacher he used to be and help prepare her to pass her exams and get into university, and leave her dead-end hubby and life behind.
I know that sounds a bit hokey, but the film is anything but. Julie Walters is a breath of fresh air and Micheal Caine is his usual great self. They play exceedingly well off one another. And while she does end up getting what she wanted, it isn't necessarily what she thought it would be.
The film received three Oscar nominations: Best Actor, Best Actress, Best Adaptation (Willy Russell)

75. Dance With a Stranger 1985
Miranda Richardson is simply amazing as the tragic Ruth Ellis, the last woman to be executed by hanging in England. The film is set in 1950s London. She's a night club hostess who falls hard for dashing race car driver David Blakeley (Rupert Everett). The two of them have a passionate and at times violent relationship. And when he leaves her, she shoots him. 
Tragedy is too soft a word for this film. Ruth has a son at home and is hanging by a thread when she meets the dashing David who's from an upper-crust family. David can't stay away from her and becomes close with her son, too. You can see her put all her hopes on their relationship, so you understand her utter desolation when she's confronted with its demise.
76. Brother's Keeper 1992
I don't have a lot of documentaries on this list, but this one has stuck with me for decades.  It's from Joe Berlinger and Bruce Sinofsky ("Paradise Lost") and is the story of the strange-but-true murder trial of Delbert Ward who is accused of the mercy killing of his brother. 
The four Ward brothers live in a small community in upstate New York. They're barely literate farmers just scraping by on the land they inherited. When William is found dead, an autopsy suggests that he did not die from natural causes, and the prosecutors accuse Delbert and have him sign a confession. But later is seems he may not be competent and could have been coerced. 
There's no evidence, but the media is quick to condemn him. What's interesting about the film is how it contrasts the city folk mentality, labeling the brothers as dumb hicks, and the rural folks, his community who rally around him. The film leaves what actually happened for the audience determine for themselves. 
77. His Girl Friday 1940
One of Cary Grant's best comedies. 
Directed by the master Howard Hawks (Bringing Up Baby, Gentelemen Prefer Blondes, Sergeant York) this is one of the great screwball rom-coms.  Based on "The Front Page" a play by Ben Hecht (Scarface, Some Like It Hot) the film takes place mostly in a newsroom.  Crack reporter Hildy Johnson (Roselind Russell) has been away a while. She was off getting a quicky divorce from Walter (Cary Grant), the editor for The Morning Post, and she's only come back so she can resign. The reason for the divorce was she wanted a traditional home life and Walter wanted her to be the great reporter he knew her to be. But she's found a new fiancé, a pretty boring insurance agent, Bruce (Ralph Bellamy), and she's leaving on the afternoon train. 
Walter doesn't want her to go and tries everything delay her departure, including getting Bruce arrested, as well as a number of other ridiculous ruses. But what actually changes Hildy's mind is a great scoop that falls in her lap. She's alone in the press room when a convicted murderer who's just escaped from the jail downstairs takes refuge in the room. She helps him hide in a roll top desk. And while everyone is looking for him, she gets an explanation of what happened from him and his girlfriend, and the taste of a great story blinds her to the fact that her fiancé is leaving town without her. And by the end Hildy and Walter are back together.  
This one never gets old. The dialogue is snappy. The chemistry between Grant and Russell sizzles. It's a Classic!!
HAPPY VIEWING AND CHECK BACK NEXT WEEK FOR PART 12!
All of these are streaming and some of the older ones you can find at your library.
And in case you missed them, here are the links to the previous weeks: Week 1, Week 2, Week 3, Week 4, Week 5, Week 6, Week 7, Week 8, Week 9, Week 10
This list started as a pandemic exercise wherein I posted a film a day on my Facebook feed. The only criterion was that it was something I remember liking back when I saw it last. I am not sure they all hold up to repeat viewing given hindsight and more recent social mores. But hey, they were all considered good films at one time, and so many of them were multiple award winners. I'm just hoping to give my stuck-at-home-without-a-clue friends some alternatives to the new films coming out these days and a quick guide to curtail the endless scrolling through Amazon and Netflix and whatever streaming services you've signed up for.