Currently browsing the "
Gillian Flynn

" tag.
Forgive me if I call this one Gone Girl on the Train. But comparisons will be made, and understandably so, between The Girl on the Train and 2014's Gone Girl. Both are crime drama thrillers based on popular novels by Paula Hawkins and Gillian Flynn respectively. Both feature strong performances. And both do a decent job remaining faithful to the source material. So if you liked the book(s) and the genre, then rest assured there's plenty to like about The Girl on The Train (though honestly, if I had to choose, I'd give Gone Girl the edge).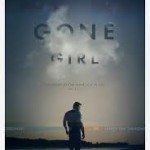 Gone Girl is very good. And, I suspect, it's probably even better if you haven't read the best-selling book by Gillian Flynn (which I did, about two years ago). It's just a solid, well-cast thriller that has enough twists and turns to keep things interesting, even if it does feel a tad too long.
I won't say much about the plot, because the less you know going in, the more you'll get out of it. But here's the gist: Nick Dunne (Ben Affleck) arrives home on his fifth anniversary to find his wife Amy (Rosamund Pike) missing. A media circus ensues as questions arise about Nick and Amy, the state of their marriage, and Nick's potential involvement in his wife's disappearance and possibly, her death. The clues – literal and figurative – stack up as the movie flashes back on the couple's path from instant attraction and romance to marital dysfunction.