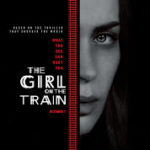 Forgive me if I call this one Gone Girl on the Train. But comparisons will be made, and understandably so, between The Girl on the Train and 2014's Gone Girl. Both are crime drama thrillers based on popular novels by Paula Hawkins and Gillian Flynn respectively. Both feature strong performances. And both do a decent job remaining faithful to the source material. So if you liked the book(s) and the genre, then rest assured there's plenty to like about The Girl on The Train (though honestly, if I had to choose, I'd give Gone Girl the edge).
The Girl on the Train movie sets up the plot in much the same way as the book, except it's set in New York rather than London. Emily Blunt (who speaks in her native British accent despite the change in locale) plays the central character, Rachel, an unhinged alcoholic and bitter divorcee who's been known to black out once in a while. Despite having lost her job, Rachel continues to ride the Metro North commuter train into Manhattan every day, torturing herself with glimpses of the suburban house she used to share with her ex-husband Tom. He still lives there – with Anna (Rebecca Ferguson), the woman he cheated on Rachel with. They have a beautiful baby girl. It's the life Rachel wanted and always thought she'd have.
Meantime, two doors down, another idyllic-looking couple catches Rachel's eye as the train whizzes by each day. She is both jealous and envious – until she spots the woman, Megan (Haley Bennett) kissing another guy! Rachel is so outraged at this turn of events that she gets off the train in a drunken rage.
The next day, Rachel wakes up in her apartment bloodied and confused. And Megan is missing. Did Rachel have something to do with her disappearance? I'm not sayin'.
If you've read the book, you know how it all plays out. If you haven't read the book, you're in for some interesting twists and turns.
The Girl on the Train is a relatively quiet drama with a significant amount of voiceover and time shifting to steer the plot and a hefty dose of "adult themes" (i.e. a lot of sex going on among people who look a lot alike). I'm not a huge fan of the final scene – in the book or the movie- but it is what it is, and it serves to wrap up the mystery in a somewhat tidy (if you don't count the bloodshed) way.
The supporting actors – including Justin Theroux as Tom, Luke Evans as Megan's husband Scott, and Edgar Ramirez as conflicted psychiatrist Kamal Abdic – all hold their own. But this movie definitely belongs to the Girls. Blunt, Ferguson and Bennett drive the train with a trio of compelling performances. The guys are just along for the ride.
Fun fact: Lisa Kudrow makes a brief appearance in the film as Rachel's former mother-in-law, Martha. It was supposed to be Monica. But the filmmakers wisely caught on to the awkwardness of a scene that includes a "Monica?… Rachel, is that you?" type of exchange. It would be enough to take any Friends fan out of the moment. (At least, that's what I heard Emily Blunt reveal in a recent TV interview!)
1 Comments
Leave a comment