Currently browsing the "
Gore Verbinski

" tag.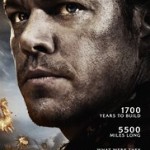 This is a really great week to catch up on one (or more) of those Oscar-nominated movies that are still in theaters or available on DVD or VOD. Why? Because, comparatively speaking, the new releases are rather dismal. Granted, I didn't have a chance to see the new Ice Cube/Charlie Day comedy Fist Fight, about a couple of high school teachers engaging in a good ol' fashioned afterschool throw-down. But I'm going to go out on a limb and surmise that you can save that one for a rainy day or a plane ride. It's probably mindlessly entertaining. Can't really say the same about The Great Wall or A Cure for Wellness. But if I had to pick among those two, I'd definitely go with The Great Wall because at least it's got Matt Damon (Jason Bourne, The Martian) — and cool views of one of the great wonders of the ancient world.
Too long. Too boring. Too convoluted. There you have it. The Lone Ranger in a nutshell. I really tried to like this movie, at least a little bit. After all, I don't have anything against westerns, I'm pretty forgiving when it comes to Johnny Depp shtick, and I think Armie Hammer can be quite endearing. And yet, I just could not get into this big-budget, big-screen take on the legendary masked lawman (Hammer) and his Native American sidekick, Tonto (Depp). The Lone Ranger is "Pirates of the Caribbean in the Wild West" – sans the 'fun factor' that made the Disney/Depp Pirates franchise such a huge success.