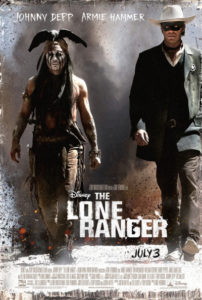 Too long. Too boring. Too convoluted. There you have it. The Lone Ranger in a nutshell. I really tried to like this movie, at least a little bit. After all, I don't have anything against westerns, I'm pretty forgiving when it comes to Johnny Depp shtick, and I think Armie Hammer can be quite endearing. And yet, I just could not get into this big-budget, big-screen take on the legendary masked lawman (Hammer) and his Native American sidekick, Tonto (Depp). The Lone Ranger is "Pirates of the Caribbean in the Wild West" – sans the 'fun factor' that made the Disney/Depp Pirates franchise such a huge success.

The Lone Ranger is odd from the get-go. An aged Tonto (Depp) is on display at some kind of county fair, where he chats it up with a young boy in a Lone Ranger costume. In a series of flashbacks, Tonto recounts how a mild-mannered district attorney named John Reid gets caught in an ambush, cheats death, dons a mask, and goes after some corrupt and greedy men vying for control of the Transcontinental Railroad. The plot lays the groundwork – or the tracks – for a slew of train chases and gunfights.
It's been a while since I've caught a rerun of the classic television show "The Lone Ranger", starring Clayton Moore and Jay Silverheels. But I do remember that their characters were generally likeable, and their bond genuine. In this cinematic version – not so much. Tonto isn't exactly the quintessential wingman. He's bitter and snarky and his motivations for partnering with the Lone Ranger are murky at best. Oh, kemosabe, you deserve better.
Hi-yo, Silver! (Stay) away!