Currently browsing the "
Hotel Transylvania

" tag.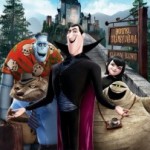 Hotel Transylvania is a delightful little getaway — of the animated, cinematic variety. You can check in anytime you want, on one condition, you must be a monster. Humans are not welcome. This flick takes the usual monster movie plot and turns it on its head… at the Hotel Transylvania the humans are the scary ones. It's a cute premise that results in lots of family friendly laughs.
Count Dracula (Adam Sandler) built the "five-stake resort" as a human-free haven for his monster friends and, more importantly, his daughter Mavis (Selena Gomez). Every year, Drac throws his little girl a big birthday bash with all of his monster friends and this year is a very special one. She's turning 118 — get it? The problem is Mavis wants to spread her wings and fly. She wants to experience the world outside the hotel's grounds. But Drac is your typical blood-sucking, over-protective dad, and he does everything he can to keep her at home. Then all of his plans are jeopardized when a cute backpacker (of the human variety) named Jonathan (Adam Samberg) stumbles upon the hotel and, of course, captures Mavis' heart.