Posted by Ellen Carl aka Adventurous Chick on September 27, 2012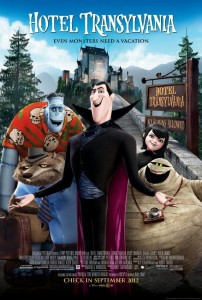 Hotel Transylvania is a delightful little getaway — of the animated, cinematic variety. You can check in anytime you want, on one condition, you must be a monster. Humans are not welcome. This flick takes the usual monster movie plot and turns it on its head… at the Hotel Transylvania the humans are the scary ones. It's a cute premise that results in lots of family friendly laughs.
Count Dracula (Adam Sandler) built the "five-stake resort" as a human-free haven for his monster friends and, more importantly, his daughter Mavis (Selena Gomez). Every year, Drac throws his little girl a big birthday bash with all of his monster friends and this year is a very special one. She's turning 118 — get it? The problem is Mavis wants to spread her wings and fly. She wants to experience the world outside the hotel's grounds. But Drac is your typical blood-sucking, over-protective dad, and he does everything he can to keep her at home. Then all of his plans are jeopardized when a cute backpacker (of the human variety) named Jonathan (Adam Samberg) stumbles upon the hotel and, of course, captures Mavis' heart.
Now Drac has to worry about protecting his daughter from falling for this "evil" human. Plus, he can't let on to his guests — like the werewolf, Frankenstein and his bride, the mummy and the invisible man — that there's a non-monster in their midst. That would be very bad for business. So he slaps some make-up on Jonathan and passes him off as a party planner, until he can get rid of him. The thing is everyone really seems to like the way Jonathan is shaking things up, so making him disappear won't be that easy.
This is an animated monster mash-up of the typical teen rebelling against an overbearing parent story, and it works pretty darn well. Sandler is excellent in giving voice to Drac, the doting dad who occasionally becomes a raging "monster." So good in fact, it took me a few minutes to place the voice. It wasn't typical Sandler. And you can tell the other actors — from Fran Drescher as an over the top Bride of Frankenstein, to Steve Buscemi as a worn out werewolf — all must have had a blast being monsters.
If you're looking for something to take the kids to, Hotel Transylvania is great. (Although, very small kids might still find some of the monsters a bit too scary — especially when they get angry.) With droll dialogue and slapstick action, it's got something for both the adults and the little ones. So I'd say check out Hotel Transylvania, since you can't technically check in. Unless, of course, you're a monster.
No Comments Yet
You can be the first to comment!
Leave a comment