Currently browsing the "
IMAX

" tag.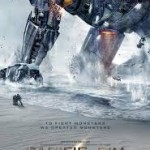 WHAT?? DID I LIKE THE MOVIE???
WHY AM I SHOUTING????
Maybe it's because my ears are still ringing from watching Pacific Rim in IMAX 3D. Let's just say it was loud – really, really loud – loud to the point of distraction. And that's never a good thing, especially if you're struggling to understand the drips and drabs of weak dialogue interjected between epic battle scenes. In a nutshell, Pacific Rim is Godzilla on steroids.