Currently browsing the "
Isabella Rossellini

" tag.
If you spent any time reading or viewing Vogue from the 60s to the 90s, you are familiar with photographer Helmut Newton's work. Naked women often in power poses, most notably in black and white, were his trademark. He died in 2004 still at the top of his game. A German Jew whose family fled in 1938, he'd already apprenticed with one of Germany's top photographers, and eventually landed in Singapore, then Australia, where his fashion photographer career blossomed. Helmut Newton: The Bad and the Beautiful talks to the models who posed for him, the editors who hired him, as well as friends, admirers, and detractors. Grace Jones, Isabella Rossellini, Charlotte Rampling, Marianne Faithfull, and Claudia Schiffer sing his praises. Anna Wintour loved his work. Susan Sontag calls him a misogynist. I always thought of him as Sontag did, but the documentary gave me a different view of the women who worked with him and his view of his own pictures. And we're far enough from the work and the culture of the time to see them in a new light.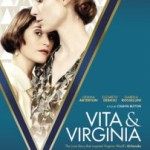 Vita Sackville-West was a British socialite and a popular writer in the 1920s. She was also fond of scandalizing the society in which she lived, especially with her female lovers. Virginia Woolf was also a writer at the time, though less popular, but Lady Sackville-West set her sights on her after meeting at a dinner party. What followed was a relationship that lasted a decade and was responsible for one of Woolf's greatest books, "Orlando." Vita & Virginia is the story of these two women as they come together passionately for a while and then remain friends for a while. The film feels a lot like the lost lesbian episode of Downton Abbey, and while the performances are quite good, the costumes gorgeous, and the sets to die for, this telling of the famous literary romance does leave you less than satisfied and wishing Julian Fellowes had had a hand in it.