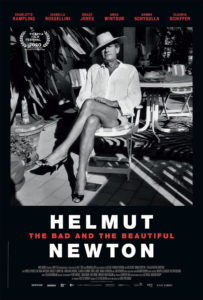 If you spent any time reading or viewing Vogue from the 60s to the 90s, you are familiar with photographer Helmut Newton's work. Naked women often in power poses, most notably in black and white, were his trademark. He died in 2004 still at the top of his game. A German Jew whose family fled in 1938, he'd already apprenticed with one of Germany's top photographers, and eventually landed in Singapore, then Australia, where his fashion photographer career blossomed. Helmut Newton: The Bad and the Beautiful talks to the models who posed for him, the editors who hired him, as well as friends, admirers, and detractors. Grace Jones, Isabella Rossellini, Charlotte Rampling, Marianne Faithfull, and Claudia Schiffer sing his praises. Anna Wintour loved his work. Susan Sontag calls him a misogynist. I always thought of him as Sontag did, but the documentary gave me a different view of the women who worked with him and his view of his own pictures. And we're far enough from the work and the culture of the time to see them in a new light.
Wintour talks a lot about the humor in his photos. But the touchstone for his women was Leni Riefenstahl's work for the Nazis that elevated people to heroic übermenschen. Several of the models talk about feeling strong working with him. But there is also a thread of the sado-masochism that runs through his imagery, and yes, misogyny.
Helmut Newton: The Bad and the Beautiful is definitely a documentary for his fans and those of photography and the fashion world. You don't learn a whole lot from it and he's still a bit of an enigma by the end, but you are immersed in the world of beautiful naked women now waxing nostalgic for an hour and a half. If that's your thing, then see it.
It's streaming through Kino Marquee.