Currently browsing the "
Isla Fisher

" tag.
Tag pretty much delivers on what the trailer and the promos promise: an entertaining adult comedy action movie featuring a diverse group of guys who spend one month out of the year continuing a highly-competitive game of Tag they started as kids. The movie was inspired by a true story that was featured in the Wall Street Journal and on a segment of CBS Sunday Morning. The stakes and physical gamesmanship are exaggerated for comedic and dramatic effect in the film. But it's comforting to know that facsimiles of these guys really do exist, and their primary motivation is admirable: it's not so much about the game as it is about having a reason – and creating the opportunity – to stay in touch (literally and figuratively) no matter where life takes you.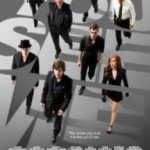 So I had a choice of overlapping screenings: After Earth (a sci-fi adventure with the father-son team of Will and Jaden Smith) or Now You See Me, a heist movie involving a quartet of illusionists. I chose the latter. That was probably a wise choice given the less than stellar buzz I'm hearing about Earth. But Now You See Me isn't all that great either, despite having a few good tricks up its sleeve. Overall, it's a decent movie for anyone in the mood for a moderately entertaining mind-bender with a solid cast. Or, if you're a fan of magic and illusion and need to get The Incredible Burt Wonderstone out of your head. If Wonderstone had gone down a somewhat dark and twisty path, this is where it might have led.