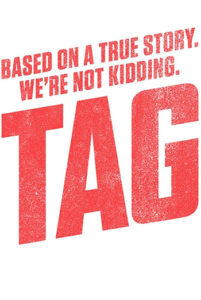 Tag pretty much delivers on what the trailer and the promos promise: an entertaining adult comedy action movie featuring a diverse group of guys who spend one month out of the year continuing a highly-competitive game of Tag they started as kids. The movie was inspired by a true story that was featured in the Wall Street Journal and on a segment of CBS Sunday Morning. The stakes and physical gamesmanship are exaggerated for comedic and dramatic effect in the film. But it's comforting to know that facsimiles of these guys really do exist, and their primary motivation is admirable: it's not so much about the game as it is about having a reason – and creating the opportunity – to stay in touch (literally and figuratively) no matter where life takes you.

While Tag is very much an ensemble comedy, it's Ed Helms' character "Hoagie" that brings, and holds, the group together. The rest of the buddies are: Randy (Jake Johnson), a pothead who hasn't matured much over the years; Sable (Hannibal Buress), the philosophical, paranoid and anxiety-prone member of the group; Callahan (Jon Hamm), proud CEO of a "Fortune 800" company whose anticipated profile piece in the Wall Street Journal is about to morph into a very different story; and Jerry (Jeremy Renner), an elusive ninja dude who's never been tagged – in 30 years. It's a streak the other guys are determined to finally break, even if it means disrupting Jerry's upcoming wedding.
There are a couple of strong women in the mix as well. Isla Fisher plays Hoagie's wife Anna, a ruthless competitor who provides logistical and moral support, even though technically there are "no girls allowed" in the game. And Leslie Bibb plays Jerry's fiance' Susan who is involved in a bit of a plot twist that some will find more disturbing and inappropriate than funny. I was taken aback for several minutes, but the film redeems itself near the end and provides a couple of bonus feel-good moments, including home footage of the real Tag buddies doing their thing, and a quirky musical montage featuring Jeremy Renner singing over the end credits while his cast-mates provide backup. Tag is the type of movie that looks like it was fun to make, which makes it fun to watch – at least, for about 90 minutes of its two-hour running time.
(note: Special shout-out to my brothers and their "Big One" gang, who sprang to mind as I watched this movie. They, too, found an excuse to get together year after year, initially under the guise of playing a friendly game of soccer. These days, the gathering skews more toward a trip to Vegas or fancy dinner; and sometimes wives, significant others, and even sisters are allowed to join!)