Currently browsing the "
J.K. Rowling

" tag.
Fantastic Beasts and Where to Find Them should satisfy all those eager to revisit the magical world created by Harry Potter scribe J.K. Rowling. It's a fun, fantastical ride that sets the stage for a whole new series of characters and adventures — supposedly four more films' worth. Eddie Redmayne (The Danish Girl, The Theory of Everything, Les Miz) is endearing as Newt Scamander, a shaggy magizoologist who inadvertently lets several magical creatures loose into 1920s NYC and must get them back into his bottomless suitcase (it must be made of the same stuff as Hermione's bottomless bag) before all of New York catches on to the city's secret world of witches and wizards. Harry will read all about it some 70 years later while studying at Hogwarts. But let's not get ahead of ourselves. In this story, Harry doesn't exist yet. Fantastic Beasts is a spin-off in reverse. A prequel of sorts. Here's the gist: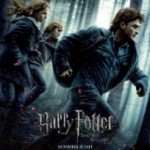 Okay, I must confess. I'm a rather ignorant muggle when it comes to the Harry Potter franchise. I haven't read the books, and I don't think I've seen all the movies. But I don't live under a pop culture rock, so I can definitely understand and appreciate their appeal. And I can attest – with a certain amount of confidence – that the penultimate Potter flick, Harry Potter and the Deathly Hallows, Part One will satisfy most if not all of the HP fans, young and old, and leave 'em wanting (and waiting) for more. Unfortunately, they'll have to wait eight friggin' months! Part Two doesn't hit theaters until July. And therein lies the movie's only real flaw. HPATDH Part One draws you in from the very first frame, cruises along at a steady clip, and ends – abruptly. No fair! What am I supposed to do now? Read the book!?