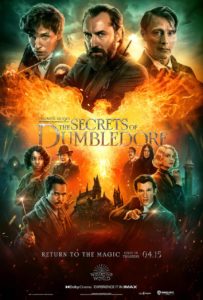 This has to be a quickie review because I don't want to get into trouble with the Wizarding World and all you muggles out there who pay close attention to all things related to Harry Potter. I'm merely an occasional visitor to the Potter universe and have not (gasp!) read the books. So I view and review these films through the lens of a casual observer with limited insight into the interwoven subplots and backstories that take place over the course of many decades. The Secrets of Dumbledore is the third film in the "Harry Potter" prequel series, following Fantastic Beasts and Where to Find Them (2016) and Fantastic Beasts: The Crimes of Grindelwald (2018). There may be a fourth, and even a fifth depending on how the sci-fi fantasy fanbase takes to this latest adventure sprung from the mind of outspoken, best-selling author J.K. Rowling. If I had to take a 'wild' guess, I'd predict more Beasts ahead.
Here's the gist: good ol' Professor Albus Dumbledore (Jude Law) is rightly concerned that his former paramour turned really bad dude Gellert Grindelwald (Mads Mikkelsen replacing Johnny Depp) is out to seize control of the Wizarding World. Grindelwald's legion of followers is growing and getting more rabid, and need to be shown that they're backing the wrong horse. Pun intended – for those in the know.
Dumbledore can't really go after Grindelwald directly because of some blood pact they made when both were seemingly on the same page about the future. So Dumbledore enlists the help of Magizoologist Newt Scamander (Eddie Redmanyne) and a merry band of wizards, witches and one brave muggle (Dan Fogler returning as baker Jakob Kowalski to provide extra heart and comic relief) to try and set things right. The story takes place in the years leading up to WW2 and builds upon the Grindelwald trajectory that was put forth in Fantastic Beasts 2, i.e. it helps to see the earlier films to grasp the timeline, the characters and their relationship to one another. If you're already invested in the Potter universe, then FB3 is certainly worth a look. If you don't speak the language of hippogriffs, obelisks and obscura, you may feel lost.
Fantastic Beasts: The Secrets of Dumbledore opens exclusively in theaters April 15. It's rated PG-13.