Currently browsing the "
Jason Momoa

" tag.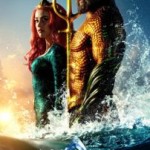 Aquaman is a bit of a hot mess, but it's not a total washout. It's one of those 'must-see regardless' movies for fans and followers of the DC comic universe, i.e. the one that includes 'Justice Leaguers' Batman, Superman and Wonder Woman. It's the first full-length feature film to dive into the origin story of Arthur Curry aka Aquaman (Jason Momoa), the half-human, half-Atlantean who wields a trident and can navigate two worlds– one on the surface, the other underwater. As it is, I always have to tread carefully when reviewing superhero movies so as not to inadvertently spoil things for the faithful. So I'll keep it simple and brief, unlike the movie, which drags on too long, and tries to do too much.
It's increasingly hard to rate or rank superhero movies when there's a new one, or two, or three bursting onto the scene seemingly every week. And let's be honest, the reviews don't matter. You probably fall into one of three camps: those who see them all, like right away; those who see most of them, eventually; and those who couldn't care less. For those in the latter category, move on. There are plenty of awesome alternatives hitting the box office right now. For those who do care, or are simply curious, here's my take on the much-anticipated, long-delayed, rumor-plagued Justice League: It's pretty good. Not as good as Wonder Woman and not as much fun as Thor: Ragnarok, but it does its primary job: establishing the foundation for DC Comics' cinematic version of Marvel's Avengers, i.e. superheroes who are sometimes called upon to 'assemble' to save the world.