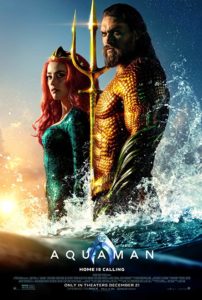 Aquaman is a bit of a hot mess, but it's not a total washout. It's one of those 'must-see regardless' movies for fans and followers of the DC comic universe, i.e. the one that includes 'Justice Leaguers' Batman, Superman and Wonder Woman. It's the first full-length feature film to dive into the origin story of Arthur Curry aka Aquaman (Jason Momoa), the half-human, half-Atlantean who wields a trident and can navigate two worlds– one on the surface, the other underwater. As it is, I always have to tread carefully when reviewing superhero movies so as not to inadvertently spoil things for the faithful. So I'll keep it simple and brief, unlike the movie, which drags on too long, and tries to do too much.

Here's the gist: mild-mannered lighthouse keeper Thomas Curry (Temuera Morrison) rescues Atlanna (Nicole Kidman), the kick-ass princess of the underwater nation of Atlantis, when she washes ashore in Maine. They fall in love and have a kid, Arthur. Then stuff happens. Arthur grows up, learns the tricks of the underwater trade from a mentor played by Willem Dafoe, and is eventually summoned by a warrior princess named Mera (Amber Heard) to fight his half-brother Orm (Patrick Wilson) in order to save the people of Atlantis, and the landfolk as well.
There's another villain aside from Orm thrown into the mix, which only serves to muddy the waters, plot-wise. So I'll leave it there.
On the plus side: Nicole Kidman looks amazing and shows her tremendous versatility, having also appeared recently in the critically-acclaimed Boy Erased and the upcoming Destroyer (in which she is almost unrecognizable as a cop haunted by her undercover past); you can't go wrong with a supporting cast that includes Patrick Wilson and Willem Dafoe; and some of the underwater sequences are quite stunning (probably even more so in 3D and IMAX).
On the negative side: the narrative is heavy on exposition and struggles to find a consistent tone, alternating between serious, cheesy and campy (Marvel movies are best at finding that balance. Aquaman tries way too hard to match that vibe and loses its way in the process); the chemistry between Aquaman and his love interest Mera is lacking; and some of the CGI made me feel like I was suddenly immersed in a videogame or amusement park ride rather than a movie.
Bottom line: Aquaman belongs in the shallow end of the superhero movie pool. It adequately serves the purpose of revealing the character's backstory and skillset, and Momoa is certainly charming to watch. But I think I'd rather see him in action as a supporting character in the Justice League franchise rather than in an Aquaman 2. That said, if Aquaman does make a big enough splash at the box office, no doubt we'll be seeing plenty more of him. There's a bonus scene in the midst of the end credits that sets the stage for more underwater adventures.
No Comments Yet
You can be the first to comment!
Leave a comment