Currently browsing the "
Jeffrey Wright

" tag.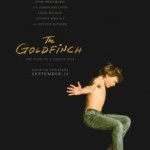 Some movies inspire me to run out and buy (or download) the books upon which they are based. The Goldfinch is not one of them. I'm sure it's a fine book. It won the 2014 Pulitzer Prize for Fiction and spent more than 30 weeks on the New York Times bestseller list. But that doesn't make it ripe for the big screen. It's a long book, and a slog of a movie – despite having an interesting premise, an appealing cast, and strong cinematography. When the first trailers hit, I pegged The Goldfinch as early Oscar bait. Now I predict it will vanish from contention almost as quickly as the painting of a tiny bird chained to its perch vanished from a bombed-out museum.
Don't be scared away by talk of quantum mechanics, complex mathematical equations, and computer source codes. You don't have to understand any of that to enjoy this movie (trust me, I know). Source Code is a bit like Groundhog Day meets Speed meets Inception meets 24. It's a sci-fi thriller that takes place primarily on a commuter train that is – literally- about to explode.