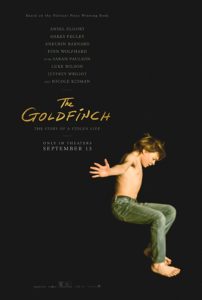 Some movies inspire me to run out and buy (or download) the books upon which they are based. The Goldfinch is not one of them. I'm sure it's a fine book. It won the 2014 Pulitzer Prize for Fiction and spent more than 30 weeks on the New York Times bestseller list. But that doesn't make it ripe for the big screen. It's a long book, and a slog of a movie – despite having an interesting premise, an appealing cast, and strong cinematography. When the first trailers hit, I pegged The Goldfinch as early Oscar bait. Now I predict it will vanish from contention almost as quickly as the painting of a tiny bird chained to its perch vanished from a bombed-out museum.

The Goldfinch recounts the story of a 13-year-old boy named Theo who survives a terrorist bombing at the Metropolitan Museum of Art in New York City. His mother is among the dead. Theo does something (okay, takes something) in the immediate aftermath of the bombing that will have repercussions throughout his life. It involves "The Goldfinch", a small piece of art by Dutch painter Carel Fabritius, dating back to 1654.
There's a lot to unpack in The Goldfinch. Too much. Just when you start to care about a particular person, sub-plot, or relationship, the narrative takes a disorienting turn, diminishing each potential story beat and character arc.
First, Theo is taken in by a wealthy New York family (led by ageless matriarch Nicole Kidman); then he's whisked away to the Nevada desert by his deadbeat Dad (Luke Wilson) and Dad's girlfriend (Sarah Paulson); then he befriends a Ukrainian kid who turns him on to some hard drugs; then he goes back to New York where he's reunited with an antiques dealer (Jeffrey Wright) who had temporary custody of a pretty young girl who caught Theo's eye just before his world exploded; then he gets engaged to the wrong gal; then he gets mixed up with the Russian mob.
Over the course of two and a half hours, the story jumps back and forth in time, as Theo navigates adolescence and young adulthood while harboring a secret that is sure to bite him in the butt.
'Older Theo' is played by one of my current faves, Ansel Elgort (The Fault in Our Stars, Divergent, Baby Driver). But it's Oakes Fegley (Wonderstruck, Pete's Dragon) as 'young Theo' who ends up stealing the show. He establishes a sympathetic tone for Theo's journey through grief, guilt, love, betrayal and redemption. It's not his fault the movie gets too convoluted to secure a proper emotional pay-off.
The Goldfinch isn't a terrible movie. Rather, it's one of those movies that has a lot of good ingredients but comes out of the oven such a mess that you have no choice but to trash it. If you've read the book and were looking forward to the film, wait to catch it downstream – or opt for a discount matinee.