Currently browsing the "
Jennifer Lee

" tag.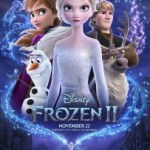 Oh c'mon, did you really expect Frozen 2 to be as good – or even better – than its predecessor, the highest-grossing animated film of all time in worldwide box office? Did you really expect, or even want, another "Let It Go"? If so, you're in for a bit of a letdown with this perfectly safe and pleasing sequel to the 2013 mega-hit that introduced us to royal sisters Elsa and Anna and the picturesque, Norwegian-esque Kingdom of Arandelle.
I sooo wanted to like this movie. Really, I did. But despite its star power both in front of the camera (Oprah Winfrey, Reese Witherspoon, Chris Pine, etc.) and behind it (director Ava DuVernay), A Wrinkle in Time is a bit of a hot mess. It's colorful, visually stunning in parts, and spreads a heartfelt message about familial bonds, embracing your faults, finding strength in your individuality and all that good stuff. But in the end, the narrative gets lost in the spectacle – and Oprah's larger-than-life, eye-glittered presence is more of a distraction than a serviceable plot device. The story just doesn't add up. I don't recall that being the case with Madeline L'Engle's classic novel, first published in 1962. I read it in the 1970s (when I actually devoured more books than movies – probably because I couldn't drive) and have fond recollections of protagonist Meg Murry's travels through time and space in search of her scientist father who went missing while studying the universe.