Currently browsing the "
Jim Gaffigan

" tag.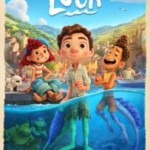 Disney-Pixar's Luca is Finding Nemo meets Splash meets Pinocchio meets a whole bunch of other well-worn concepts, delivered with a dash of fresh Italian seasoning. There's pasta! Gelato! Vespas! Picturesque land and sea! Combine that with themes of friendship, family, community and staying true to one's self, and you've got the makings of a satisfying dish to add to the large table of appealing Disney-Pixar movies. Luca will leave you sated in a "I've had this meal before but still really like it" sort of way. So Buon Appetito!
I've been interested in inventor Nikola Tesla's life and work for ages, so I was excited that a feature film was going to take him on. And I love Ethan Hawke who's been getting better and better the last few years. (The Truth, First Reformed, Juliet, Naked, Maudie) Seemed like a great idea. But Telsa is anything but a standard biopic. It's a jumble of scenes set in last days of America's Gilded Age, the period when Tesla was warring with Thomas Edison (Kyle MacLachlan) over the best way to deliver electricity to the masses — Direct vs Alternating Current. (AC v DC. – spoiler, Tesla was right) Narrated by J.P. Morgan's daughter Anne (Eve Hewson, Bridge of Spies), Tesla is a hybrid – documentary, experimental film, and period drama. Some of it works, and some is just weird.