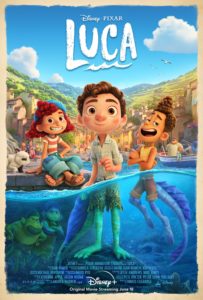 Disney-Pixar's Luca is Finding Nemo meets Splash meets Pinocchio meets a whole bunch of other well-worn concepts, delivered with a dash of fresh Italian seasoning. There's pasta! Gelato! Vespas! Picturesque land and sea! Combine that with themes of friendship, family, community and staying true to one's self, and you've got the makings of a satisfying dish to add to the large table of appealing Disney-Pixar movies. Luca will leave you sated in a "I've had this meal before but still really like it" sort of way. So Buon Appetito!
The story takes place along the Italian Riviera – above and below sea level, where 13-year-old Luca Paguro (voiced by Jacob Tremblay, Room) lives in an underwater farm where he herds goatfish with his parents, Daniela and Lorenzo (Maya Rudolph, Jim Gaffigan).
In typical teen fashion, Luca is primed to push boundaries and explore. That includes venturing onto the forbidden shore, where "land monsters" are known to roam. He's aided in his adventures by the older (14), wiser (or so he likes to think) free-spirited sea monster Alberto Scofano (Jack Dylan Grazer, IT) who's already spent a lot of time on the surface disguised as a boy. The trick to maintaining the ruse is to stay dry. Not always easy.
The pair join forces with a charming and adventurous girl named Giulia Marcovaldo (Emma Berman) and together they battle bullies and prep for a local race that could win them money for a coveted vespa.
In a nutshell, Luca is a sweet but typical fish out of water, coming-of-age story that just happens to involve actual fish (or sea monsters) and their human friends and adversaries. It's a well-drawn animated film that will leave you craving a trip to Italia – or a hearty spaghetti dinner. Or both.
Be sure and watch through the end credits. They are filled with additional imagery that serve as a fun post-script for all the main characters.