Currently browsing the "
Jon Stewart

" tag.
Irresistible is far more easy to resist than one might hope, despite a strong cast, timely premise and the indelible imprint of former "Daily Show" host Jon Stewart as the film's writer and director. In a nutshell, Irresistible is a scathing rebuke of our campaign finance system, issued through the lens of political satire. Steve Carell plays Gary Zimmer, a democratic political strategist based in DC who travels out to the small Wisconsin town of Deerlaken to help a retired Marine colonel (Chris Cooper) run for Mayor, touting the somewhat reluctant candidate as "a redder kind of blue." The race draws national attention and Deerlaken takes on a political circus atmosphere, replete with media punditry and the arrival of Gary's republican nemesis Faith Brewster (Rose Byrne) to bolster the campaign of the incumbent.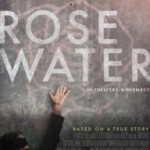 Jon Stewart's crossover from host of a hit satirical news show to feature film writer/director was slightly surprising on the face of it. But once you get into Rosewater, you see why this true story was so personal to him. In 2009, Daily Show correspondent Jason Jones, donning a silly undercover spy persona, conducted a mock interview in Tehran with Newsweek journalist Maziar Bahari for a segment about the country's elections, which Iranian-born Bahari had returned home to cover. A short time later that interview was actually used against him when he was arrested and charged with spying for the CIA. "Why this man claim to be a spy if he is not a spy?" his interrogator asks in the film. "Why would a spy have a television show?" Bahari answers incredulously. And this was the rabbit hole he fell down — an absurdist nightmare with no room for reality or truth.