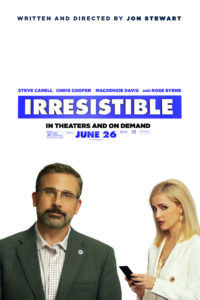 Irresistible is far more easy to resist than one might hope, despite a strong cast, timely premise and the indelible imprint of former "Daily Show" host Jon Stewart as the film's writer and director. In a nutshell, Irresistible is a scathing rebuke of our campaign finance system, issued through the lens of political satire. Steve Carell plays Gary Zimmer, a democratic political strategist based in DC who travels out to the small Wisconsin town of Deerlaken to help a retired Marine colonel (Chris Cooper) run for Mayor, touting the somewhat reluctant candidate as "a redder kind of blue." The race draws national attention and Deerlaken takes on a political circus atmosphere, replete with media punditry and the arrival of Gary's republican nemesis Faith Brewster (Rose Byrne) to bolster the campaign of the incumbent.
I'm a longtime fan of Jon Stewart and Steve Carell and I have no doubt their followers will want to see this film; I just think it's important to keep expectations in check. The film drags in the middle, probably because the material and the tone are better suited to an extended segment of "The Daily Show" than to a full-length feature that feels like a dramatized version of a Michael Moore documentary.
Carell has proven himself quite adept at comedy and drama and everything in between ("The Office", Beautiful Boy, Last Flag Flying, Battle of the Sexes, Foxcatcher, "The Morning Show", "The Daily Show", the voice of Gru in Despicable Me). His Irresistible character, Gary Zimmer, runs the gamut as well. Funny, endearing, annoying, idealistic, cynical, sarcastic, oblivious. Therein lies at least part of the problem. I'm never quite sure how I'm supposed to feel about Gary – or any of the main characters – so I don't feel much of anything. Irresistible is inconsistent, much like Carell's new Netflix sitcom "Space Force." It hits a comical or dramatic bullseye one minute, then meanders along until the next punchline, sight gag, or feigned outrage.
Irresistible is rated what I would call a 'very soft R'. Maybe one 'f' over the line. For the most part, it will be preaching to a liberal choir, even if the liberals don't come off smelling like roses any more than their conservative counterparts. It's equal opportunity satire, squarely aimed at exposing what's become a shameful "election economy". And just in case you still don't get it in the end, there's bonus footage during the credit roll that clearly spells it out for you – with a roundtable of media talking heads mocking their own role in the campaign game, and Jon Stewart (off-camera) interviewing a (real) former chairman of the FCC about failures across every part of the system (judicial, legislative, executive….) and how unlikely it is to change.
Irresistible premieres at home on demand on June 26 via Amazon Prime Video, Apple TV, Xfinity, Vudu, Google Play, and Fandango Now.