Currently browsing the "
Mackenzie Davis

" tag.
Irresistible is far more easy to resist than one might hope, despite a strong cast, timely premise and the indelible imprint of former "Daily Show" host Jon Stewart as the film's writer and director. In a nutshell, Irresistible is a scathing rebuke of our campaign finance system, issued through the lens of political satire. Steve Carell plays Gary Zimmer, a democratic political strategist based in DC who travels out to the small Wisconsin town of Deerlaken to help a retired Marine colonel (Chris Cooper) run for Mayor, touting the somewhat reluctant candidate as "a redder kind of blue." The race draws national attention and Deerlaken takes on a political circus atmosphere, replete with media punditry and the arrival of Gary's republican nemesis Faith Brewster (Rose Byrne) to bolster the campaign of the incumbent.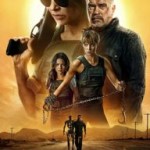 True confessions time. I'm more than a little late to the Terminator game. Until last week, my only exposure to the decades-old franchise revolved around random clips featuring Arnold Schwarzenegger as a menacing looking robot dude and pop-culture references to his signature line, "I'll be back."
Since I never ventured there to begin with, I couldn't really go back. Or could I?
Seemed fitting to try, given the brand's own penchant for messing with time. So thanks to Amazon Prime (free streaming of 1984's The Terminator) and iTunes ($3.99 rental of 1991's Terminator 2: Judgment Day), I got up to speed pretty quick, and got the baseline I truly needed for Terminator: Dark Fate.