Currently browsing the "
Juliette Lewis

" tag.
My oh Ma! What a departure for Octavia Spencer, playing a lonely, twisted woman in a teen horror flick. The Oscar-winning actress (The Help, Hidden Figures) commands the screen – and the scream – as Sue Ann, a veterinary assistant in a quiet Ohio town who befriends a group of teenagers on a beer run. She agrees to buy the kids alcohol and invites them to hang out in her large secluded basement so they can have a safe place to party. What could possibly go wrong?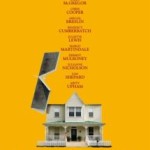 In the battle of Meryl vs Julia, who will chew more scenery? August: Osage County pits them against each other as the drug addicted Mom versus the only person in her large extended family capable of taking her on. Based on a stage play of the same name, it is a star-studded dramedy about what must be the most dysfunctional family in the state of Oklahoma all coming together after a tragedy. None of them want to be there, and I started to feel the same way, but stuck with it because it's one of those acting slugfests you just have to see through.