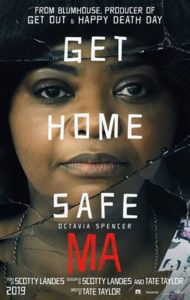 My oh Ma! What a departure for Octavia Spencer, playing a lonely, twisted woman in a teen horror flick. The Oscar-winning actress (The Help, Hidden Figures) commands the screen – and the scream – as Sue Ann, a veterinary assistant in a quiet Ohio town who befriends a group of teenagers on a beer run. She agrees to buy the kids alcohol and invites them to hang out in her large secluded basement so they can have a safe place to party. What could possibly go wrong?
To get the party started, Sue Ann lays down a few house rules for the trusting, hormone-driven 16-year-olds: One of the kids has to stay sober (sounds good); No cursing (okay); Never go upstairs (hmmmmm); and call her "Ma" (a bit weird, but whatever). They follow the rules, and she invites them back, repeatedly, and word spreads among their peers. Ma's place is the place to be.
So what's up with Ma? Turns out she has some unresolved issues going back to her own high school days. And, she's cray-cray. I'll just leave it at that.
The young actors all hold their own in what are fairly standard teen horror movie roles. There's new-kid-in-town Maggie (Diana Silvers, Glass, Booksmart), her fun blond bestie Haley (McKaley Miller, TV's Hart of Dixie) and cute love interest Andy (Corey Fogelmanis, TV's Girl Meets World), and their tag-along pals Chaz (Gianni Paolo, TV's Power) and Darrell (Dante Brown, Lethal Weapon TV series).
The supporting cast of adults includes Juliette Lewis (August: Osage County), Luke Evans (Beauty and the Beast), Missi Pyle (Gone Girl) and, perhaps most surprising, Oscar-winner Allison Janney (I, Tonya; TV's Mom) who rocks her minor role as Sue Ann's boss.
Ma is directed by Tate Taylor (The Help, Winter's Bone) who also appears in front of the camera as the town cop. He delivers an R-rated thriller that has the Blumhouse horror stamp all over it (Get Out, Us, Split, The Purge, Halloween, etc.). If you know the genre, you know the drill: You'll cringe, jump out of your seat, shout warnings at the screen, and laugh at the bloody absurdness of it all.
You'll also marvel at Octavia Spencer's ability to play creepy with such aplomb.
I had to pick between a screening of Ma and a screening of the new Godzilla. Little did I know I'd simply be trading in one monster for another, and that Ma could end up being the scarier of the two. I don't expect to see a giant green lizard terrorizing the neighborhood anytime soon. But Ma could easily be that seemingly harmless oddball down the street.
Be careful who you trust kids… and as Ma likes to say, Get Home Safe.