Currently browsing the "
Kim Basinger

" tag.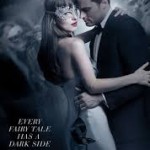 Defending this movie is like Donald Trump defending one of his executive orders. The built-in base will eat it up. Others will accept it, with reservations. And everyone else will run for the cinematic equivalent of Canada. So the bottom line is this: If you've read the books (as I have) and were at least okay with the first film (as I was), then you may feel compelled to escape back into the unconventional romantic fantasyland that is Fifty Shades Darker. It's not a must-see now, unless you're into instant gratification, but it is essential to the climax of the film adaptation of the steamy story arc detailed in the best-selling trilogy by E.L. James. Part three, Fifty Shades Freed, has already been shot and is scheduled for release next Valentine's Day, 2018. So you have a year to debate your inner goddess (as Anastasia would say) on the merits of seeing this relationship through to its happily-ever-after. This is, after all, nothing more than a risqué fairytale written –without apology– in the vein of Twilight fan-fiction. Shakespeare it aint. But it is a very lucrative enterprise. So somebody's making out.
I see dead people. Or, at least, I see Zac Efron seeing dead people in the fantasy romantic drama Charlie St. Cloud. The movie is part Ghost, part Ghost Whisperer and part Sixth Sense, so it's fairly easy to stay one step ahead of the dialogue and plot, with just a few exceptions.