Currently browsing the "
Malin Akerman

" tag.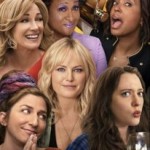 It's that time of year. The holiday movies are upon us and the first one out of the gate is this sometimes funny comedy centered on a couple of besties in Hollywood who had planned on a low-key Thanksgiving together, but end up in a crowded house with a bunch of wacky friends and characters. Molly (Malin Akerman, "DollFace", Watchmen) is a famous actress who's just been through a divorce and is looking for some distraction. And her life-long friend Abby (Kat Dennings, Nick and Norah's Infinite Playlist, Thor) is just getting over her first lesbian relationship. But when their friend Lauren's (Aisha Tyler, "Archer, "Criminal Minds") Thanksgiving plans fall through, she invites herself and a dozen others over and it turns into a crowded plot that goes nowhere. And that's sad since it has a talented cast. I was hoping for a warm and funny Home for the Holidays, but got an R-rated Lifetime holiday flick.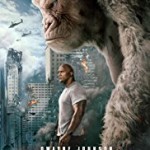 There's just something about Dwayne "The Rock" Johnson that lets him get away with making disastrous disaster movies. Perhaps it's the twinkle in his eye as his characters defy death for the gazillionth time, the gentle nod to the absurdity of the plot, the giant muscles in constant flex for the betterment of humanity… Whatever it is, it's working for him. Rampage is ridiculous. But it's not bad. Especially if you have a thing for monster movies, disaster movies, a high body count, cartoonish villains, stereotypical government 'suits', implausible stunts, self-deprecating humor and cheesy dialogue.