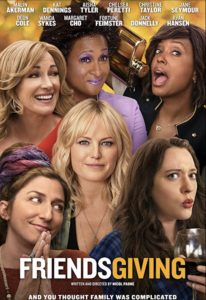 It's that time of year. The holiday movies are upon us and the first one out of the gate is this sometimes funny comedy centered on a couple of besties in Hollywood who had planned on a low-key Thanksgiving together, but end up in a crowded house with a bunch of wacky friends and characters. Molly (Malin Akerman, "DollFace", Watchmen) is a famous actress who's just been through a divorce and is looking for some distraction. And her life-long friend Abby (Kat Dennings, Nick and Norah's Infinite Playlist, Thor) is just getting over her first lesbian relationship. But when their friend Lauren's (Aisha Tyler, "Archer, "Criminal Minds") Thanksgiving plans fall through, she invites herself and a dozen others over and it turns into a crowded plot that goes nowhere. And that's sad since it has a talented cast. I was hoping for a warm and funny Home for the Holidays, but got an R-rated Lifetime holiday flick.
The film sets the tone in its opening scenes as Molly is playing dominatrix with her new boyfriend Jeff (Jack Donnelly), but gets distracted by her crying baby. Meanwhile Abby is at the store shopping for their dinner and drinking wine from the bottle and getting kicked out. And that's when Lauren calls and insinuates herself into their day. And before you know it the house is full. Claire (Chelsea Peretti, "Parks and Recreation", "Brooklyn Nine-Nine") a Hollywood cliche shaman is there to help Molly and Abby heal. And who should show up but Molly's mother Helen (Jane Seymour, "Dr. Quinn, Medicine Woman", "The Kominsky Method"), who just decided to pop in from her home in Sweden and invited Molly's old boyfriend. Plus everyone invites a lesbian just for Abby.
The set up is all there for any number of scenarios, both funny and heartfelt, but first-time director actress Nicol Paone loses track of the story and it ends up being a series of scenes that add up to not much. Most of the actors and the director come from television and it comes off feeling very much like a sitcom, and not one you probably want to tune in to next week. I'd say skip this one and wait for something meatier.
Rated R for language and nudity