Currently browsing the "
Michelle Monaghanpy movie

" tag.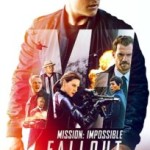 Your mission – should you choose to accept it – is to check your plausibility meter at the door and enjoy watching Ethan Hunt (Tom Cruise, 56) run, jump, fly, shoot and crawl his way across the globe in this sixth installment of the popular spy-movie franchise. Berlin! Paris! London! New Zealand! It's a veritable action-adventure-travelogue. There is a plot – something to do with missing plutonium, bombs, a manifesto, double-crosses galore, and millions of people at risk. But it's the stunts, breathtaking locales and core character interactions that make for a fast-paced and engaging flick.