Currently browsing the "
Native American

" tag.
This year was a distance festival. There were opportunities to be in the theaters in DC, but I chose to watch everything online from afar, on my couch. That's a mixed blessing. No running from theater to theater. No missing something because it overlapped with another film. No frozen feet from arctic-cooled theaters. Lots of good snuggles with my dog. But also no standing in line with other festival-goers and talking about what we've seen and loved. No Q&A's after the films. (There were some that were available, but it just didn't seem the same taped from a distance.) And no watching films in some of DC's beautiful landmarks like the National Archives. A slew of distractions that made it very different from sitting in a dark room with an audience. And for me the worst part was that I don't have a big screen television, so some of the films were definitely shortchanged.
Nevertheless, it was a good festival and there were several films I will be thinking of for a while. The Audience Award for Best Feature went to one of my faves for sure, Storm Lake. It is a smaller film and I hope that the award will mean it gets seen by a lot more people.
The films I saw were: The First Step – Radiograph of a Family – Rise Again: Tulsa and the Red Summer – LFG – Storm Lake – The Neutral Ground – The One and Only Dick Gregory – Obama: In Pursuit of a More Perfect Union – Roadrunner: A Film about Anthony Bourdain – The Story Won't Die – Daughter of a Lost Bird – and The Lost Leonardo.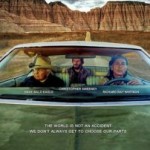 This ever so indie film was funded with a Kickstarter campaign and then self-distributed. And right now it is the longest-running US theatrical release in more than a decade, having premiered at the Edinburgh International Film Festival back in 2016. And it's finally making its way to the big cities now. Set in Lakota Sioux country, the film takes a white author on a coerced road trip through Native America as an elder and his friend impart their wisdom to him. The elder is played by the late Dave Bald Eagle who gives the film its deep resonance. Adapted from a semi-autobiographical book of the same name, Neither Wolf Nor Dog isn't destined to be a blockbuster, but its message from the Native American community is one that should be heard.