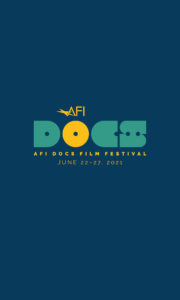 This year was a distance festival. There were opportunities to be in the theaters in DC, but I chose to watch everything online from afar, on my couch. That's a mixed blessing. No running from theater to theater. No missing something because it overlapped with another film. No frozen feet from arctic-cooled theaters. Lots of good snuggles with my dog. But also no standing in line with other festival-goers and talking about what we've seen and loved. No Q&A's after the films. (There were some that were available, but it just didn't seem the same taped from a distance.) And no watching films in some of DC's beautiful landmarks like the National Archives. A slew of distractions that made it very different from sitting in a dark room with an audience. And for me the worst part was that I don't have a big screen television, so some of the films were definitely shortchanged.
Nevertheless, it was a good festival and there were several films I will be thinking of for a while. The Audience Award for Best Feature went to one of my faves for sure, Storm Lake. It is a smaller film and I hope that the award will mean it gets seen by a lot more people.
The films I saw were: The First Step – Radiograph of a Family – Rise Again: Tulsa and the Red Summer – LFG – Storm Lake –  The Neutral Ground – The One and Only Dick Gregory – Obama: In Pursuit of a More Perfect Union –  Roadrunner: A Film about Anthony Bourdain – The Story Won't Die –  Daughter of a Lost Bird –  and The Lost Leonardo.
Day One
My first film of the festival was The First Step, a very timely and engaging documentary about political commentator and activist Van Jones and his part in getting the First Step Act passed. The film begins with the election of Trump and Jones calling his win "a whitelash" which quickly got him all kinds of backlash from those on the right. But despite that, he became engaged in the fight to reform federal prisons and sentencing, and surprisingly allied himself with Jared Kushner to do it. And that caused a lot of people on the left to be scornful and wary.
One of the best parts of the film is where he brings a group of activist people of color from South Los Angeles to lily white West Virginia to talk to families there who share their experiences around drug addiction and incarceration. Even though they're on opposite sides of the political spectrum, they come from the same painful place. A running theme of the film though is the way that addiction was treated one way when it was mostly black and brown people, but now with opioids affecting white populations, there is a very different kind of attention being given.
As the bill moves through the Congress, it has bipartisan support, but many of the progressive activists who have been pushing for this kind of reform for years aren't on board because it doesn't go far enough. "The perfect is the enemy of the good" kept running through my head. Van Jones is pilloried for working with the Trump administration and some of the LA contingent even refuse to set foot in the White House for discussions about the bill. Ultimately it is strengthened to a point where the progressives can back it and it is signed into law by Trump. But Van Jones's journey to get there is fascinating and very frustrating and at times slips into a vanity project territory. But at the end I felt like this one should be shown in schools instead of that cartoon about how a bill becomes a law.
Radiograph of a Family is a history lesson of modern Iran wrapped in a story about filmmaker Firouzeh Khosrovani's parents. It begins in the 60s when her father Hossein is studying medicine in Geneva and meets her mother Tayi while on vacation at home in Teheran. When he is unable to come home for their wedding, Tayi's marriage ceremony only includes a photo of the man she is marrying. But soon she joins Hossein in Switzerland. The glaring problem is that she's a devout Muslim and he, a secular progressive. So she is entirely lost there in the liberal world and eventually they move back to Iran. But Iran is in turmoil and the revolution that eventually ousted the Shah animates her mother, giving her a sense of purpose.
The film is told through photos and archival footage with narration from Khosrovani, along with letters being read, and imagined conversations between her parents. There is also an apartment, her family's home that changes over time, reflecting the changes in her mother and the country. It's a beautiful and sad family portrait.
I was concerned going in that Rise Again: Tulsa and the Red Summer would be a film all about Tulsa. And having read so much recently about the massacre there one hundred years ago I didn't expect to learn anything. I was wrong. What this powerful documentary does is put Tulsa in perspective. At the time that it happened, Tulsa was just one of a number of massacres that took place across America. The film follows Washington Post journalist DeNeen Brown as she returns to her native Oklahoma and reports on the search for a mass grave of the victims of the massacre. While there she talks with community leaders as well as some of the last remaining survivors of the massacre.
But the story expands to tell about what was called the Red Summer in the summer and fall of 1919, when racist violence against Black people was widespread in part because there was rising Black wealth that presented an imagined threat to white people. It's a shameful history that needs to be addressed to this day.
LFG is a #girlpower sports doc. The US Women's Soccer Team has been inspiring throngs of young girls (and boys) and winning international tournaments for decades. And yet they are still paid significantly less that the Men's Team. In 2019 the 3 time World Champion team held a secret meeting. They agreed to begin a gender discrimination suit against the US Soccer Federation. The statistics of how poorly they are paid in contrast to the men, while they have racked up more wins and produced more revenue that they have, are shocking and maddening. This timely doc lays it all out as you're there with the women on the field and off while they fight to be treated as equals. And FYI, LGF means "Let's F*cking Go." It's the teams mantra.
Day 2
Storm Lake was my favorite film of the festival. It focuses on a small town newspaper, The Storm Lake Times, in Storm Lake, Iowa, population 15,000 or there abouts. Editor Art Cullen began the paper in 1990, picked up a Pulitzer for his reporting, and is fighting to keep the paper going. With more and more small towns becoming news deserts, i.e. lacking any local reporting, Cullen is determined to keep democracy alive and his readers informed on everything happening in their vicinity. It's a small newsroom with a handful of reporters, but the work they're doing is as important as any big town paper. The town is also home to a growing immigrant community that the paper feels responsible for welcoming and informing. There is also a Tyson pork packaging plant that becomes the focus of national news during the COVID crisis. Cullen is a great character and it's a thoroughly engaging film.
The Neutral Ground is about the removal of Confederate monuments in New Orleans and beyond. African-American director and comedian CJ Hunt had moved to NO when the city decided to remove a number of statues of Civil War heroes. But the pushback from the supporters of the Lost Cause grabbed his attention and he decided to try to get to the bottom of why the issue is still being fought and what the supporters actually believe about slavery and the Civil War. It's a great deep dive into "alternative facts."
The One and Only Dick Gregory is an exhaustive look at the comedian, activist, nutrition guru. I knew a bit about him, particularly the comedian and nutrition guru part. But what I found most interesting in the film was his activism, beginning with being invited down to Mississippi by Medgar Evers and marching, being beaten by police, and thrown in jail. He was friends with Dr. King and used his celebrity to bring the press to the protests. And as a comedian he was a trailblazer, able to talk blackness to wide audiences of white people. He was a remarkable man.
I liked the film, but it was too long, and felt like it gave equal weight to all the parts of his life, leaving no stone unturned. It's definitely worth watching, but could have had a stronger point of view.
Day 3
Obama: In Pursuit of a More Perfect Union is a multi-part series that will be on HBO. The first episode is all about him from childhood to his rise from obscurity in the political world to his deciding to run for President. A lot of it you probably know, but the way it's told is entertaining and made me consider ponying up for a HBO subscription. Of course, it helps if you are a fan of the man.
The specter of his suicide hangs over Roadrunner: A Film about Anthony Bourdain from the very beginning. But the film is also a reminder of Bourdain's charisma and intelligence and wit and heart. It charts his rise from working chef to surprising best-selling author to celebrity travel foodie. It also follows his personal life; the disintegration of his long marriage when he moved into the celebrity sphere, his new love and child, and then another obsessive love who broke him. Along the way there are quite a few moments that foretell his ultimate fate. And a handful of lifelong friends weigh in on him and their time together. All in all it's a sad tribute to a fascinating man.
Day 4
The Story Won't Die follows eight Syrian refugee artists as they make new lives for themselves in Europe. It's an engrossing film as the artists talk about their lives in Syria, the revolution that failed them, and how their art has been both political statement and lifeline. One rapper was arrested and tortured for his lyrics. A graphic artist was beaten for her imagery. Dancers and singers and more visual artists, they all share the refugee experience, yearning for a home that they may never seen again. Their escapes are all different. One was rich enough to board a plane. Others walked for days and spent time in camps. It's a beautiful film about the ways that art can communicate and why it is so scary to the powers that be. It was one of my top films at the festival.
Daughter of a Lost Bird is a very timely film. Kendra, a young woman who was adopted, meets her Native American birth mother. She grew up with loving white parents and has no idea what it means to be part of an indigenous tribe. Her birth mother's family were from the Lummi Nation in Washington State. But in looking at her heritage, she's also confronted with how the government tried to wipe out their culture through the Indian Child Welfare Act and Indian Adoption Project. The same residential schools that have been in the news in Canada were used here in the US ripping children away from their families.
The film was shot over a period of 7 years. What the film does well is show how Kendra tries to come to terms with what her heritage means while bringing a woman into her life that was absent for too long. It's a sad and heartfelt and courageous film.
The Lost Leonardo is a great art thriller documentary. I remember when the Salvator Mundi painting was in the news. Purported to be a lost painting by the master Leonardo da Vinci, it was found in New Orleans and went on to become the most expensive painting ever sold. ($450 million) And what this twisty documentary does is take the audience behind the scenes as the authenticity of the painting is questioned and then obscured. The cast of characters involved in its journey upward are politicians, art dealers, a Russian oligarch, even Saudi Prince Mohammed bin Salman. And the question of whether its provenance even matters becomes the big question. It's a fascinating look inside the hidden art world where owning a piece has nothing to do with its aesthetics and more to do with its perceived worth.