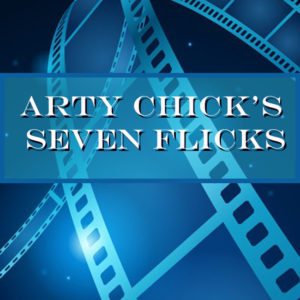 What a group of films I have for you this week! There's an end of the world love story set in Los Angeles and a twisted sister rivalry in old Hollywood. I've included the quintessential DC political drama and an Italian Fascist-era classic. And there are 3 musicals: one set in Nazi-era Berlin, another about a doomed love in France, and the last, a Chinese love triangle on a film set.
The films are: Miracle Mile ,What Ever Happened to Baby Jane, All the President's Men, Cabaret, The Conformist, The Umbrellas of Cherbourg, and Perhaps Love.

99. Miracle Mile 1988
It begins as a meet cute for Harry (Anthony Edwards) and Julie (Mare Winningham) at the La Brea Tar Pits in Los Angeles. But a power outage and missed date and an accidental wrong number push the film in a totally different direction. When the phone (in a phone booth) rings moments after Harry has tried to call Julie, he answers and hears a crazed voice on the other end. It's a man named Chip who thinks he's talking to his father, telling him that nuclear war is going to begin in about an hour, even giving him the launch codes before getting cut off. After the call Harry goes into a coffee shop and tells a group of diners about it and a mysterious woman with contacts in the government verifies the story and says those in the know are heading to the South Pole and inviting everyone to join her on her jet. Frantic to save Julie, Harry agrees to meet everyone at the airport. But as the night wears on and the clock runs out it becomes harder and harder to make that plan work, even though he does find the girl.
In 1983, Steve De Jarnatt's Miracle Mile was chosen by American Film magazine as one of the ten best unproduced screenplays circulating in Hollywood. It would take 10 years for it to come to the screen. As Anthony Edwards remembered, "That was a script that everybody wanted to make, but they wanted him to change the ending. It was this great adventure, but they wanted it to have a happy ending. But he stuck it out, and luckily he stuck it out long enough that I was old enough to play the part. " It also has a fabulous soundtrack by Tangerine Dream. And all these years later Edwards and Winningham are dating.

100. What Ever Happened to Baby Jane? 1962
This film works on a number of levels. It's a psychological horror thriller starring two of Hollywood's greatest screen legends – Bette Davis and Joan Crawford. Their bitter real world rivalry was the stuff of tabloid fodder and you can feel it on the screen. They play sisters, "Baby" Jane (Davis) and Blanche (Crawford) Hudson. In their youth, Baby Jane was a huge star but her popularity waned as she grew up. Then Blanche became the star of the family and Jane was consumed with jealousy. Now following a car accident, Blanche is confined to a wheelchair, dependent on Jane. And Jane relishes asserting her power over her invalid sister, eventually imprisoning her in their crumbling mansion when Blanche decides to sell it. At the same time Jane is living in a delusional world where she is still the vaudeville star she was as a child and going slowly insane.
What Ever Happened to Baby Jane? is a campy dark psychological thriller now considered a cult classic. It boasts fabulous performances from Davis and Crawford. Davis got to show off her acting chops in an outrageous fashion with the part. But Crawford holds her own. It's a lot of fun!
The film was nominated for 5 Academy Awards including one for Davis and won one for costumes. And just to continue their rivalry Crawford accepted the Oscar for Anne Bancroft when she won that year for Best Actress for 'The Miracle Worker.'

101. All the President's Men 1976
This fabulous political thriller is based a non-fiction book of the same name by Carl Bernstein and Bob Woodward, the two journalists investigating the 1974 Watergate scandal for The Washington Post. Robert Redford plays Woodward and Dustin Hoffman is Bernstein. It tracks their uncovering of the story that brought down President Nixon. It begins as a story about an insignificant break-in at the DNC headquarters, but just keeps leading higher and higher up until it implicates the President of the United States. It's a gripping true story.
And the last line of the move tells you why we will always need a robust press in this country. WP Exec. Editor Ben Bradlee to Woodward and Berstein: You know the results of the latest Gallup Poll? Half the country never even heard of the word Watergate. Nobody gives a shit. You guys are probably pretty tired, right? Well, you should be. Go on home, get a nice hot bath. Rest up… 15 minutes. Then get your asses back in gear. We're under a lot of pressure, you know, and you put us there. Nothing's riding on this except the, uh, first amendment to the Constitution, freedom of the press, and maybe the future of the country. Not that any of that matters, but if you guys fuck up again, I'm going to get mad. Goodnight.
The film was nominated for 8 Oscars and won 4: Supporting Actor (Jason Robards), Screenplay (William Goldman) Art Direction and Sound.

102. Cabaret 1972 1981
This musical is set in 1930s Berlin, and begins just at the end of the Wiemar Republic and the beginning of the rise of the Nazis. Sally Bowles is a singer/performer at the bawdy Kit Kat Club who meets Brian a British academic when he moves into the boarding house where she lives and falls for him. Unfortunately for her he's gay, but they do become close.  There's also another man in the mix, but ultimately Sally is left to her own devices.  There are a couple of other story lines, but mostly it's Sally's show. The specter of the Nazis is all around. And by the end of the film, they are the majority of the audience at the Kit Kat Club.
The film is filled with memorable songs and it made Lisa Minnelli a star. A young and handsome Michael York plays the academic and the other outstanding role is Joel Grey as the Master of Ceremonies.
The film received 10 Oscar nominations and won 8: Best Actress (Minnelli), Best Supporting Actor (Grey), Best Director (Fosse), Best Cinematography (Geoffrey Unsworth) Best Art Direction, Best Sound, Best Music Score, and Best Editing.

103. The Conformist 1970
This drama from director Bernardo Bertolucci stars Jean-Louis Trintignant plays a man at war with himself. Set in Fascist-era Italy, Marcello is a bureaucrat who grew up in an affluent family, but suffered nonetheless from a series of traumas. Now firmly ensconced in the Fascist government, he'll do anything to appear "normal." He's a closeted homosexual but marries anyway and heads to Paris for his honeymoon, and while there he accepts an assignment from Mussolini's secret police to assassinate a former mentor who is living there in exile. But when he arrives, he finds that the professor has married a former girlfriend, creating a problem. He still cares about her and tries to get her out of the way for the assassination, but his plan fails. Throughout the film, in flashback the audience learns what happened to Marcello and brought him to this moment where he's willing to sacrifice everything for the chance to be a member of the ruling power. It's horrifying and sad and a casebook study of how people are drawn to dangerous ideologies simply in order to be part of something bigger.
The film is lauded for its visual style as much as for the story. Bertolucci collaborated with Oscar winning cinematographer Vittorio Storaro, best known for The Godfather films and Apocalypse Now, to create a surreal Fascist landscape with surprising camera angles and movement. It is considered by many to be one of the most beautifully shot film ever.
The film was nominated for one Oscar: Best Writing, Screenplay Based on Material from Another Medium.

104. The Umbrellas of Cherbourg 1964
More than simply a musical, in The Umbrellas of Cherbourg the entirety of its dialogue is sung. It's the story of a young love that misses it's moment. Told in three parts it begins with 16-year-old Geneviève head over heels in love with car mechanic Guy. She's ready to marry him, but he has to do his 2-year military service in Algeria and before he leaves they have sex. Part Two is her disillusionment. Geneviève finds out she's pregnant, and though she writes to Guy, his replies come less and less often. And believing he doesn't care, she settles for a wealthy husband who accepts the child. The third part is when Guy returns and finds that Geneviève has married. He finds himself a wife and settles down. Four years later, one night as he and his wife and son are at their gas station, a fancy car pulls up. Inside are Geneviève and her daughter. Guy recognizes her, and invites her inside. They chat briefly but there are no sparks and they go on with their lives.
The role of Geneviève was Catherine Deneuve's breakout performance.
The film was nominated for 5 Oscars: Best Foreign Language Film, Best Screenplay, Best Original Song, Best Score, Best Music Scoring.

105. Perhaps Love 2005
This is without doubt the most obscure of the group. A friend from China suggested it to me and I found it a lot of fun. Here's my review from when I originally viewed it. It stars Asian heart throb Takeshi Kaneshiro and superstar singer Jacky Cheung in a love triangle with acclaimed actress Zhou Xun. The movie opens with Lin (Kaneshiro) arriving in Shanghai to co-star in a musical film with his old flame Sun (Zhou) who is in a relationship with the director Nie (Cheung). The musical they are all making together is about a young woman who loses her memory and is taken under the wing of a circus owner who falls in love with her, but her old love comes back for her and she is torn between the two men. Meanwhile in the real world outside the film, the actor flashes back to his romance 10 years earlier with his co-star and yearns to rekindle their flame. She is initially reluctant to the point of indifference to him, but his persistence pays off and their romances both on and off screen mirror one another.
Perhaps Love was made four years after Moulin Rouge, and has the same feel, though it is great on its own merits. Wonderful acting, touching music. A sweet story. And you'll enjoy it all even if you don't speak Mandarin or Cantonese.
HAPPY VIEWING AND CHECK BACK NEXT WEEK FOR PART 16!
All of these are streaming and some of the older ones you can find at your library.
And in case you missed them, here are the links to the previous weeks:
Week 1, Week 2, Week 3, Week 4, Week 5, Week 6, Week 7,
Week 8, Week 9, Week 10, Week 11, Week 12, Week 13, Week 14
This list started as a pandemic exercise wherein I posted a film a day on my Facebook feed. The only criterion was that it was something I remember liking back when I saw it last. I am not sure they all hold up to repeat viewing given hindsight and more recent social mores. But hey, they were all considered good films at one time, and so many of them were multiple award winners. I'm just hoping to give my "the theaters may be opening, but I'm not ready to go yet" friends some alternatives to the new films coming out these days and a quick guide to curtail the endless scrolling through Amazon and Netflix and whatever streaming services you've signed up for.