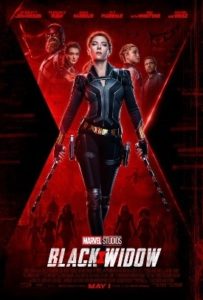 It's been a looooong time coming to get Russian spy-turned-Avenger Black Widow aka Natasha Romanov's backstory onto the big screen. And now Marvel fans can breathe a sigh of relief. The combination origin story and fill-in-the-gap between Captain America: Civil War and Avengers: Infinity War is a satisfying, action-packed spy thriller with a dysfunctional family dynamic that is both toxic and amusing. If you lost me at 'Avenger, 'Black Widow', 'Captain America', or 'Infinity War', then you probably haven't been waiting on the edge of your post-vaccination seat to see this in theaters. And that's okay. If you're not into Marvel movies, move on. Black Widow requires a certain base knowledge of the Marvel Cinematic Universe (MCU) to maximize the entertainment value and fully appreciate Natasha's history – and potential legacy. (note: It's not a spoiler to remind folks that Natasha met a tragic, self-sacrificing end in Avengers: Endgame.)
Black Widow takes place on the heels of Captain America: Civil War. Natasha/Black Widow has broken the Sokovia Accords (legislation requiring UN oversight of superhero types), she's on the run, and the Avengers are largely disbanded (for the time being). Natasha is looking for a fresh start, far under the radar. But life has other plans. There are dark forces afoot – that only she is fully equipped and motivated to battle. To understand what they are, you need to go back to suburban Ohio in the mid-1990s, when Natasha's sleeper cell "family" has to pull up stakes and return to Mother Russia, where she and other girls were trained in espionage, martial arts, sniping and such, and mind-controlled by the ruthless leader of the Red Room.
I could go on and on with set-up for those needing a bit of help establishing a baseline for the plot. But it doesn't really matter all that much. The heart of the movie lies in the heart of the relationships – not in the crazy stunts, myriad locations, and femme fatale exteriors, cool as they all may be.
Scarlett Johannson (Avengers; Marriage Story; Jojo Rabbit) kicks butt as Natasha/Black Widow, much as she has since her first Marvel-ous appearance in 2010's Iron Man 2. But she does not single-handedly carry this movie. She shares the screen – and the best scenes – with Florence Pugh (Little Women, Midsommar) as her younger 'sister' Yelena; Rachel Weisz (The Favourite, Disobedience) as 'mom' Melina; and David Harbour ("Stranger Things") as 'dad' Alexei, aka Red Guardian (a Soviet supersoldier). They are an estranged group, with each carrying excess personal baggage and a load of dirty laundry.
Black Widow is bursting at the seams with female empowerment, behind the camera as well. It's directed by indie filmmaker Cate Shortland, who was handpicked by Johannson to take a crack at the big-budget blockbuster genre. She more than holds her own with the big boys.
The movie is a tad on the long side, with the first half lagging a bit behind the pace of the second half. But overall, it should hold your attention all the way through the end credits. And beyond. Because – hey – it's Marvel, so of course there's a teaser for what lies ahead.
Black Widow is the first film in what's being called Phase Four of the Marvel Cinematic Universe. It launches simultaneously in theaters and on Disney+ with Premiere Access on July 9.
Arty Chick's take: I'm not a Marvel aficionado by any means, though I have seen and enjoyed quite a few, so I was a bit confused about the schism between Black Widow/Natasha and her superhero pals, but I don't think you really need to have a deep MCU knowledge to enjoy Black Widow. It's a kick-ass origin story with a couple of bad-ass performances by two strong female leads. It's entertainment with a big dose of feminism, and it sets up a compelling new character for all of us to follow.
No Comments Yet
You can be the first to comment!
Leave a comment