Currently browsing the "
Florence Pugh

" tag.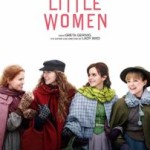 Louisa May Alcott's 1860s novel Little Women has been adapted to film more times that I can count, beginning in the silent era. So do we really need another one? Yes, we do. In the hands of the talented Greta Gerwig, this story of the four March sisters in Concord, Massachusetts feels as fresh and as relevant as any modern story. And blessed with a perfect cast including Saoirse Ronan, Laura Dern, and Timothée Chalamet, it's one of the gems of this awards season.
No, it's not Shakespeare's play. But the lady in question does end up with a lot of blood on her hands. The film Lady Macbeth is an adaptation of a Russian novella, but set in a very isolated part of England in 1865. Young Katherine (Florence Pugh), is sold into marriage with an older man and seems destined to spend her life in crushing boredom. There are no people for her to interact with except her cold husband, his controlling father, and some servants. She's forbidden from going out of the house, there doesn't seem to be a library or a book anywhere, her marriage is sexless, and you can tell she's about to go insane. But then her husband and his father are called away, and she not only ventures out of the house, but she begins a torrid affair with Sebastian (Cosmo Jarvis), a groom on the estate, which develops into a dangerous obsession for everyone involved.