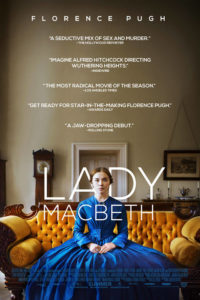 No, it's not Shakespeare's play. But the lady in question does end up with a lot of blood on her hands. The film Lady Macbeth is an adaptation of a Russian novella, but set in a very isolated part of England in 1865. Young Katherine (Florence Pugh), is sold into marriage with an older man and seems destined to spend her life in crushing boredom. There are no people for her to interact with except her cold husband, his controlling father, and some servants. She's forbidden from going out of the house, there doesn't seem to be a library or a book anywhere, her marriage is sexless, and you can tell she's about to go insane. But then her husband and his father are called away, and she not only ventures out of the house, but she begins a torrid affair with Sebastian (Cosmo Jarvis), a groom on the estate, which develops into a dangerous obsession for everyone involved.
The story is all about breaking the rules, particularly those of class and gender. Katherine's life is so hemmed in and at first she grudgingly accepts it as the way things are, but when the opening to be herself appears, she jumps in with gusto. The affair is an open secret. Her maid, a young black woman named Anna (Naomi Ackie), is her conspirator and for a moment almost her friend. But Katherine's newfound power goes to her head and soon she's getting rid of any obstacles she sees in the way of her future happiness with Sebastian. Anna's response is to become mute. And even Sebastian is afraid of Katherine's unbridled and amoral power.
All the leads in this film are relatively unknown, but not likely to stay that way. Florence Pugh's Katherine begins as a smoldering fire and bursts into flame as the film progresses. But by the end, she's learned to contain her fire, leaving scorched earth in her wake. She's the best villainous women on screen in a long time. And Naomi Ackie's Anna, even after she goes mute, is a powerful presence in the film, as conspirator, as witness, as other. The film is a series of shocks, though not terribly bloody. It's the psychological turn of Katherine that is disturbing and keeps you watching. Lady Macbeth is Jane Austen on steroids. If you like unsettling period dramas, this one's for you.
Interesting aside. This film was adapted from the book Lady Macbeth of the Mtsensk District, an 1865 novella by Nikolai Leskov. Seems obscure, no? But I was reading a novel about Shostakovich last week and he adapted the book too, but as an opera. It was banned in the USSR for almost 30 years. Good read, if you're interested in music in the Stalin era. House of Names by Colm Tóibín who also wrote Brooklyn.