The Dark Tower. I'm not a Stephen King purist so I didn't go into this movie with the same high expectations as those who've read the series of books that The Dark Tower is based on. Perhaps that's why I liked it – not a lot, but enough to slot it into the "acceptable summer cinematic escape" category for the 12-and-up crowd. It's an action adventure fantasy flick with a confounding plot that boils down to a physical and psychological battle between good (Idris Elba as gunslinger Roland) and evil (Matthew McConaughey as creepy Man in Black) across parallel universes.
The Man in Black is on some kind of eternal quest to destroy the universe by finding the child whose mind has the power to topple the Dark Tower that holds the universe together and keeps a bunch of evil monsters at bay. Turns out that special kid may be Jake Chambers (Tom Taylor), a resident of "Keystone Earth" (Manhattan to be precise) who has psychic powers and befriends the good-guy gunslinger Roland. Together, Jake and Roland take on The Man in Black (aka Walter, which sounds far less threatening). The Dark Tower isn't a must-see, but it's not bad, and at the very least, you're watching Idris Elba command the screen and shoot the bad guys for 95 minutes. The violence is largely bloodless and there are moments of comic relief. So rest assured, The Dark Tower isn't too dark for older kids or adults who don't like hyper-violent movies. And there are easter eggs planted throughout for those who know all things Stephen King (books and movies).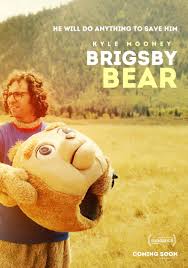 Brigsby Bear. This is a quirky indie with a surprising amount of heart. It stars Kyle Mooney (SNL) as James Pope, a sheltered 25-year-old who's been living with his parents in an isolated bunker his entire life. James is obsessed with a children's sci-fi fantasy show called "The Adventures of Brigsby Bear," unaware that the TV series was created for an audience of one – him. When the show ends abruptly, and James ends up back in mainstream society, he sets out to make a movie to wrap up the "Brigsby Bear" storyline. Brigsby Bear works because it doesn't follow a predicted trajectory as James' weird obsession with the bear is taken in stride and even embraced by some. Brigsby is directed by Mooney's long-time friend Dave McCary (a writer on SNL). The pair decided to make a movie primarily for their own entertainment but found unexpected success on the Festival circuit. (Sundance was a "rad experience," they said.). Bottom line: If you've ever had a collection of VHS tapes and/or fond memories of childhood TV shows (e.g. the New Zoo Review and HR Puff n'Stuff), then you'll probably enjoy Brigsby Bear. It's a sweet dramatic comedy with a definite indie vibe.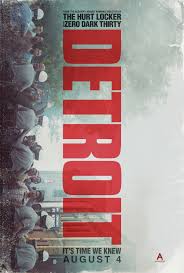 Detroit. This R-rated crime drama is a difficult watch, but worth it. It's based on the true story of an incident at the Algiers Motel in Detroit in the midst of the 1967 race riots. Three black men were killed and nine other young people (seven black men and two white women) were beaten and terrorized by rogue members of the Detroit PD. It's been 50 years since that incident, but the movie is all-too relevant to present-day America and underscores the persistent challenges of building trust between law-enforcement and the communities they are sworn to protect and serve. Anthony Mackie (Falcon, Avengers) is probably the most recognizable actor in Detroit. But this is largely an ensemble accomplishment with particularly strong performances from John Boyega as a black security guard trying to help keep the peace and Will Poulter as a creepy white cop who thinks he's perfectly justified in planting evidence and shooting people in the back. Detroit is directed by Kathryn Bigelow and written by Mark Boal, the team behind the tension-fueled The Hurt Locker and Zero Dark Thirty. Detroit has some strong violence and cursing and you can't wait for it to end (after 2 hours and 20 minutes). You should see it anyway.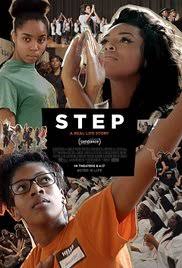 Step. Step is an inspiring, feel-good documentary about a step team at the Baltimore Leadership School for Young Women, an all-girls high school in inner-city Baltimore. The school opened in 2009 with the goal of sending every one of its students to college. The doc follows several young women as they chase their dreams to win a step championship and get accepted into college, all as Graduation Day looms. It's a bit like an urban Glee, with step dancing at its core. Step is a crowd-pleaser with characters – and dance routines – that are easy to root for.
An Inconvenient Sequel: Truth to Power. The former VP who was once soooo close to becoming Prez is back with a follow-up to his surprise PowerPoint hit about climate change, An Inconvenient Truth (2006). Ten years on, Al Gore is still championing efforts to persuade government leaders to recognize climate change as a global issue and invest in renewable energy. This new documentary is an engaging sequel. Unfortunately, like its predecessor, the film preaches to the choir. Those who really should see it probably won't. The documentary offers some great behind-the-scenes footage surrounding events that culminated with the 2016 signing of the landmark Paris Climate Agreement (You know, the one President Trump recently vowed to pull out of. Grrrrrr.) The film had to change its ending to stay current with current events. Fortunately, despite the potential political setback, Gore remains optimistic that individual people and companies will do the right thing for the environment – simply because it's the right thing to do. Let's hope.
Escapes. Do you know who Hampton Fancher is? If so, you may find this odd documentary about the actor-writer somewhat interesting. Otherwise, skip it.
For lively discussion about all these films and more, tune in to the Cinema Clash podcast (also available on iTunes):