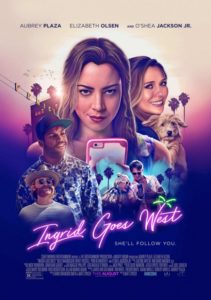 This is an odd and uncomfortable indie comedy. The Ingrid of the title has serious social/mental problems. Played by Aubrey Plaza (Parks and Recreation) she lives very much alone but online, and actually thinks people are her besties because she follows their social media feeds and knows all about them. In the first scene of the movie, Ingrid crashes a wedding she wasn't invited to, assaulting the bride who she felt so close to because she'd seen and "liked" all the wedding plans on Instagram. But once that "relationship" has turned sour, she goes back online and finds her next victim/best friend who just happens to live in Los Angeles, and she's off to insinuate herself into her life. Taylor Sloane played by Elizabeth Olsen (Martha Marcy May Marlene) is a lifestyle star on Instagram and is soon real life friends with Ingrid. But you are constantly worrying that she's going to figure out she's being stalked.
In order to meet Taylor, Ingrid kidnaps her dog so she can be the hero and return it. And she gets invited to dinner for it. And once she's "in", she finds ways to keep getting together with her new pal. Taylor has no idea that she's the object of Ingrid's obsession, but once Taylor's ne'er-do-well brother arrives on the scene, he recognizes the manipulations of Ingrid and is hell bent on outing her. He's definitely an ass, but he's looking out for his sister, so is he wrong? But it gets extremely awkward and slightly dangerous. And while all this is going on, Ingrid's landlord Dan Pinto (O'Shea Jackson Jr. Straight Outta Compton) is kinda sorta becoming her real boyfriend.
Aubrey Plaza is unbelievably good at this hopefully pathetic character. You're really not sure if you can root for her to succeed or whether you'd really just like her to get help. And Elizabeth Olsen is perfect as the hashtag queen whose life is lived on Instagram. This darkly satirical take on how social media has taken over so many people's lives does turn out well, though that is a judgment call. Go see it and decide for yourself. And please turn off your phone while you watch. Ingrid Goes West should appeal to Instagram-aholics, pop culture enthusiasts, and odd-ball indie lovers.