Currently browsing the "
O'Shea Jackson Jr.

" tag.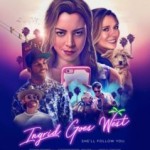 This is an odd and uncomfortable indie comedy. The Ingrid of the title has serious social/mental problems. Played by Aubrey Plaza (Parks and Recreation) she lives very much alone but online, and actually thinks people are her besties because she follows their social media feeds and knows all about them. In the first scene of the movie, Ingrid crashes a wedding she wasn't invited to, assaulting the bride who she felt so close to because she'd seen and "liked" all the wedding plans on Instagram. But once that "relationship" has turned sour, she goes back online and finds her next victim/best friend who just happens to live in Los Angeles, and she's off to insinuate herself into her life. Taylor Sloane played by Elizabeth Olsen (Martha Marcy May Marlene) is a lifestyle star on Instagram and is soon real life friends with Ingrid. But you are constantly worrying that she's going to figure out she's being stalked.
I really liked this film, even though I'm not normally a fan of hip hop, because it has a great story and great characters and, I have to admit, some great music. It's a bio-drama about a group of friends in one of Los Angeles's rougher neighborhoods who got together in the mid-80s and used hip hop to describe their lives and spread their truth and were blown away by the incredible reception to their message. They became huge stars and changed the music industry. And all these years later, the racism and discrimination they were reacting to in their music feels just as relevant.