Currently browsing the "
New Zealand

" tag.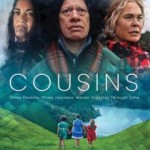 I watched these two indie films back to back. Both of them deal with a girl growing up with just about every kind of obstacle thrown in her way. One takes place on a planet far away in a not so distant future. The other takes place within the Māori community of New Zealand in the mid-20th century. Young Remmy in Settlers is played by Brooklynn Prince who made her splashy debut in The Florida Project four years ago as a kid running around looking for adventure and getting into trouble. She's more serious this time around, but still pretty much doing the same thing, only on a desolate planet instead of backwater Orlando. Young Mata (Te Raukura Gray) in Cousins is not so lucky. She's been ripped from her Māori family (including two female cousins) and adopted by a loveless white woman. Both girls weather adversity as they grow to adulthood, but both come out of it all battered but still standing.
Barbershop: The Next Cut is the second sequel (or maybe the third if you count the spin-off, Beauty Shop) to the 2002 surprise hit, Barbershop, about a day in the life of a barbershop on the South Side of Chicago. The shop, run by Calvin (Ice Cube) serves as a lifeline to the community. But the community is changing. And in The Next Cut, Calvin is contemplating moving his family, and the shop, to the North Side to protect his teenage son from the gang violence permeating the streets. Cedric the Entertainer is back as the comic relief, playing Eddie, a barber who can't be trusted with scissors or a razor, but is there to tell it like it is. The movie gets a bit heavy-handed with the messaging and a few sub-plots are more of a distraction than a delight. But it means well. It's got heart, and enough humor to prevent it from being another Chi-Raq. It ties up way too neatly in the end, given the current climate on the South Side, but overall, the movie provides an accessible and timely message worth sharing with teenagers, regardless of demographic and locale.