Currently browsing the "
Niki Caro

" tag.
Fortunately, she still brings honor to us all. Only this time, it's in live action. That means Mulan kicks butt as a warrior – without breaking into song (as she did in the popular 1998 G-rated animated version). The trade-off: strong acting, scenery, and special effects. It's a bit like watching a Chinese version of Wonder Woman.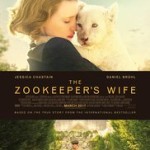 Just in time for Passover… a new Holocaust movie! It's hard to believe that 80 years after Hitler hatched his maniacal plan to exterminate Jews, there are compelling stories of faith, survival, heroism and sacrifice still making their way to the big screen. The Zookeeper's Wife isn't nearly as gripping and powerful as the likes of Diary of Anne Frank or Schindler's List, but it's a valiant effort and comes along at a time when the nation – and the world- can use a good reminder to "never forget" what happened, how it happened, and the dangers of a lunatic leader with a cult following. Not to mention the importance of resistance – and persistence. For that very reason alone, it's worth checking out The Zookeeper's Wife, based on the nonfiction book by Diane Ackerman. It recounts how a Polish couple who ran the Warsaw Zoo helped save hundreds of Jews during the German invasion, by using the zoo as a way-station for men, women and children to escape from the ill-fated Warsaw Ghetto.