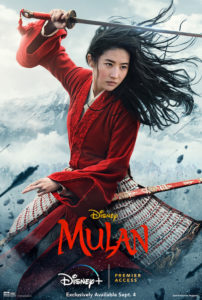 Fortunately, she still brings honor to us all. Only this time, it's in live action. That means Mulan kicks butt as a warrior – without breaking into song (as she did in the popular 1998 G-rated animated version). The trade-off: strong acting, scenery, and special effects. It's a bit like watching a Chinese version of Wonder Woman.
Disney's Mulan (re)treads on old, hallowed ground storywise, but that's okay. It's #GirlPower for a new generation. Hua Mulan (Yifei Liu) is a fearless young woman who risks everything for love of family and country. When the Emperor decrees that one male from every family must join the Imperial Army to battle invaders from the North, Hua Mulan secretly masquerades as a man – Hua Jun – to go in place of her ailing father (Tzi Ma), an honored warrior who'd more than paid his dues in defense of China. Of course, she can't really harness all her inner strength and reach her full potential while living a lie. Gender issues aside, she is still a force to be reckoned with – commanding the attention and respect of her fellow warriors (including a very 'woke' warrior hottie who will likely be a bit relieved when she truly lets her hair down), the Emperor, and even her enemies.
Acclaimed New Zealand director Niki Caro (Whale Rider, The Zookeeper's Wife, McFarland USA) delivers an entertaining family-friendly action adventure that doesn't exactly break new ground, but also doesn't do harm to the legend or the enduring message of Mulan: don't let anyone stifle your 'chi'. It may come in handy to save a Dynasty.
Disney+ is offering 'Premier Access' to watch Mulan for $29.99 starting on September 4. Is the pricetag worth early access? Maybe – if you've got enough viewers and popcorn to create a true "movie night" in the home theater (or driveway). It could help tide you over until Wonder Woman 1984 finally hits… theaters or whatever… in October.